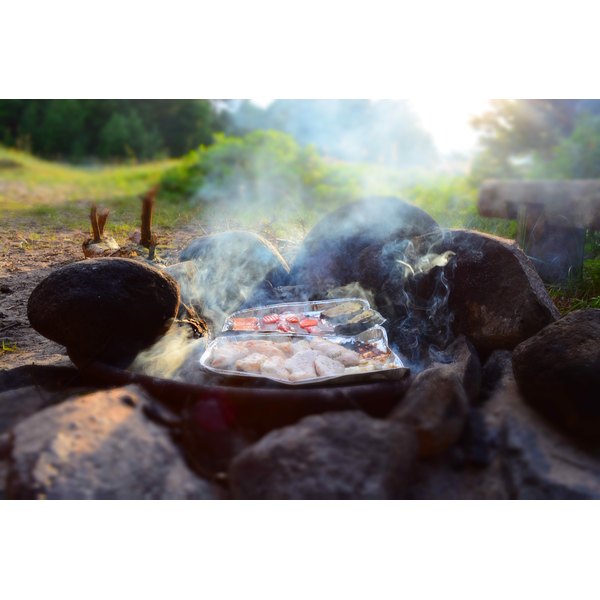 Camping is a great way to spend time with family and friends and enjoy the outdoors. Camping can be done from a rustic cabin, a tent, a camper or out of a car. Depending on the type of camping, campers can decide on what type of food to prepare.
Ready to Eat Foods
Nuts can be purchased shelled or in their shells. Some nuts, such as walnuts will need a nut cracker to get out the meaty part of the nut. Pistachios and peanuts can easily be shelled while out camping. Nuts contain mostly protein and some carbohydrates and fiber, write Frances Sizer and Eli Whitney in "Nutrition Concepts and Controversies." Fruits such as apples, bananas and grapes are easy to pack and don't require any preparation. Granola bars and trail mix also provide carbohydrates and protein and are easy to store and ready to eat.
Easy To Prepare Foods
Peanut butter is easy to take along and can be spread onto bread or tortillas, vegetables, fruit or even eaten by itself. Peanut butter will keep a person full longer because it contains a good source of protein and when paired with bread, fruits or vegetables that provide carbohydrates, a person can have a well balanced snack that provides energy. If a small camping stove is available, eggs can easily be cooked for a meal. Have eggs with two pieces of bread to add carbohydrates. Instant pasta is easy to prepare, adding hot water, dried vegetables and sauce.
Family Camping Meals
A healthy breakfast can include instant pancakes, prepared by mixing water and cooked on a griddle or stove. Serve pancakes with fruit to add vitamins and nutrients. For a healthy lunch, cook pasta and mix with tuna, vegetables and sauce. This will provide protein, carbohydrates and a serving of vegetables. Grilled chicken or fish are healthy and provide a healthy dinner. In place of hamburger meat, use turkey patties, which are lower in saturated fat. Saturated fat is unhealthy fat that is linked to cardiovascular disease.