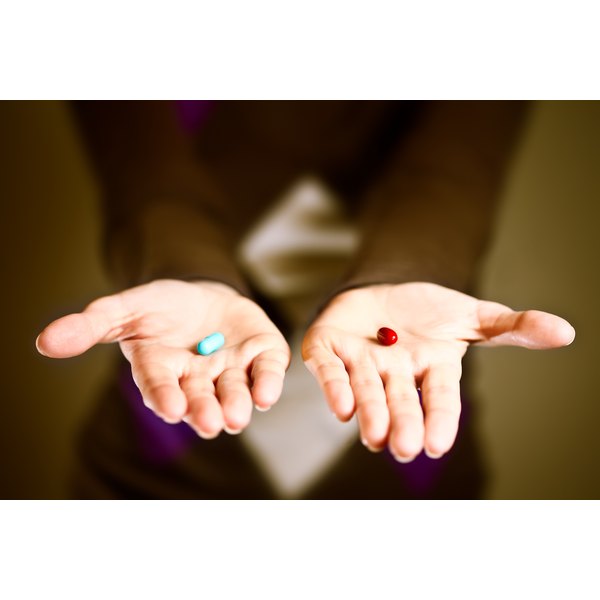 The best way to lose weight is to make changes to your diet and exercise routines so that you burn more calories than you're eating each day. Although you may be tempted to take diet supplements if you believe their advertising's promises of quick-and-easy weight loss, only limited evidence supports these claims. In addition, most of these supplements aren't tested or approved by the U.S. Food and Drug Administration. For the most part, even the top 10 diet pills offer only marginal benefits for women trying to lose weight. Check with your doctor before taking any diet pills to ensure their safety.
FDA-Approved Orlistat Diet Pills
For an over-the-counter weight-loss pill that's approved by the U.S. Food and Drug Administration, you have one option -- Orlistat. It works by reducing fat absorption, so you won't absorb all the calories in fat or gain as much weight from eating foods that contain fat. However, you'll still need to limit your fat intake and eat a healthy diet, or you'll develop side effects. Eating oily or fatty foods when you take Orlistat can affect your stool, causing runny, oily bowel movements and leakage.
Orlistat is recommended only for adults with a body mass index of 27 or above, and it shouldn't be taken by those on certain medications. If you've had an organ transplant, are on a blood thinner or take thyroid medications, it can interfere with the absorption of these medications.
Green Tea Extract
Green tea extract has a significant amount of research to back up its use, but the effects are very modest. For example, people who took two capsules per day for 8 weeks lost an extra 4 pounds in a study published in the Journal of the American College of Nutrition in 2010. Beneficial substances in green tea called catechins work together with the caffeine it contains to increase fat burning and metabolism. Green tea extract may also decrease your appetite. Some potential side effects with the use of green tea extract include nausea, constipation, abdominal discomfort, liver damage and increased blood pressure. You can get a similar weight loss benefit without the side effects by drinking about four cups of green tea per day, according to the JACN study.
Green Coffee Bean Extract
Green coffee bean extract is another caffeine-containing supplement that looks promising for weight loss, although further research is necessary to verify these effects. It may help limit the accumulation of fat in your body. Taking these supplements was associated with an increase in weight loss, according to a review article published in Gastroenterology Research and Practice in 2011. For example, in one study noted in the review, people who took green coffee bean extract for 12 weeks lost an extra 8 pounds compared to those who received a placebo.
However, this supplement could cause adverse effects, such as urinary tract infections and headache. As an alternative, you could just drink coffee. Drinking a moderate amount of coffee each day may help people eat less during meals, according to a study published in Obesity in 2013, which could potentially lead to weight loss. Just remember that the caffeine in coffee can also cause headaches if you drink too much of it.
Yerba Mate
Yerba mate may help to limit new fat deposits, according to a study published in Food Chemistry in 2013, which is one reason it's sometimes used in weight-loss supplements. The caffeine content of yerba mate is another reason it may be useful. People who increase their caffeine intake may find it easier to avoid weight gain, notes a study published in The American Journal of Clinical Nutrition. Just be sure to limit your overall caffeine intake to no more than 400 milligrams per day, as doses that are higher than that can cause jitteriness, vomiting, nervousness and an irregular heartbeat.
Guarana Supplements
Guarana may also be helpful for slimming down, and it's often used in combination with other ingredients with a potential for weight loss. Like yerba mate, its primary benefits may be from to the amount of caffeine it contains. In a study published in the Journal of Human Nutrition and Dietetics in 2001, a combination of yerba mate, guarana and an herb called damiana helped to delay the emptying of the stomach so participants felt full longer. It also helped increase weight loss by about 11 pounds over the course of the 45-day study.
White Kidney Bean Extract
A supplement containing white kidney bean extract may limit the amount of carbohydrates your body absorbs and help you lose weight, according to a study published in the International Journal of Medical Sciences in 2007. People who took these supplements lost an extra 6 pounds over the course of the 30-day study. Of course, if you follow a low-carbohydrate diet, this supplement won't make as much a difference in your weight as it does for those who follow a higher carbohydrate diet.
Potential side effects for white kidney bean extract supplements include flatulence, constipation, soft stools and headaches. Another option is to just include more meals containing beans in your diet, as those who eat beans tend to weigh less than those who don't, according to a study published in the Journal of the American College of Nutrition in 2008.
Pyruvate Supplements
Taking Pyruvate supplements may cause a very slight increase in your weight loss results; people who took Pyruvate lost an average of about 2 extra pounds in an analysis of six studies published in Critical Reviews of Food Science and Nutrition in 2014. The potential side effects of Pyruvate tend to be relatively mild and include bloating, diarrhea and gas, as well as a possible decrease in your high-density lipoprotein, or "good" cholesterol levels.
Conjugated Linoleic Acid
Results are mixed in studies of conjugated linoleic acid supplements and changes in body composition. People increased their lean body mass by taking CLA for 12 weeks in a study published in The Journal of Nutrition in 2007. In another study published in 2009 in The American Journal of Clinical Nutrition, these supplements helped with weight loss, with participants losing an average of about 3 pounds during the first 16 weeks of supplementation, but they didn't increase lean body mass. Some people taking CLA experience upset stomach, constipation, diarrhea or abdominal pain.
Chromium Picolinate
According to a study published in Diabetes Technology & Therapeutics in 2008, chromium picolinate supplements may help limit hunger and cravings, thus potentially making it easier for you to eat less and lose weight. The potential for increased weight loss appears to be limited, with a meta-analysis published in Obesity Reviews in 2013 noting that study participants only lost an average of about 1 pound throughout the course of the included studies, which ranged in length from 8 to 26 weeks. Chromium may cause side effects including nausea, vomiting, vertigo, hives, constipation, headache, weakness and watery stools.
Chitosan Supplements
Chitosan is a type of fiber found in the shells of crustaceans, such as shrimp and crab, that may help limit the absorption of fat. An analysis of 14 studies lasting at least 4 weeks on chitosan and weight loss published in Obesity Reviews in 2005 found that study participants lost an average of about 4 pounds using this supplement, so it isn't likely to lead to significant amounts of weight loss. Potential adverse effects associated with chitosan include indigestion, heartburn, constipation, nausea, bloating and flatulence. In addition, people who are allergic to shellfish should not ingest chitosan because it's made from the shells of crustaceans.