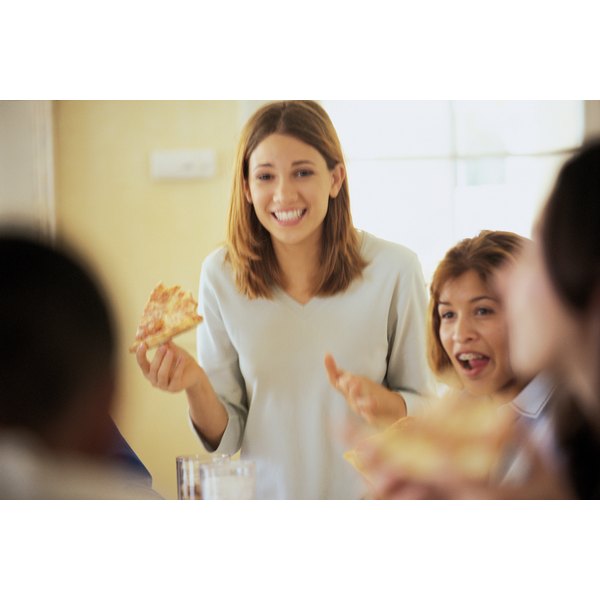 The national supermarket chain Whole Foods offers take-home pizzas that customers can bake themselves, recipes for alternative pizza ideas and sells pizza by the slice in some locations. Though Whole Foods doesn't post nutritional information for its pizzas in stores or online, nutrition pulled from its recipe ideas and ingredients can give consumers an approximate idea of what's in their pizzas.
Tip
Whole Foods Pizza has 459 Calories and 10.31 g of Protein per 100 gram serving according to the nutrition facts provided by the USDA Food Composition Database.
Composition
Whole Foods is clear and forthcoming about what's in the pizza it sells, even if it doesn't make the detailed nutritional information public. According to its website, the chain's pizzas are made with natural and organic ingredients, similar to those that it sells separately. Any Whole Foods pizza made with meat is made with free-range or cage-free varieties, and Whole Foods notes that its other pizza ingredients are "free of artificial preservatives, sweeteners, colorings and additives." Those criteria fit with the definition of "whole foods" set forth by Texas Tech University's Health Sciences Center, which notes that the most nutritious foods are free of refined flour or sugar.
By the Slice
One reason that general nutrition information for Whole Foods pizza is not available is that the chain sells so many different types of hot pizza. Toppings and offerings change seasonally at several retail locations, and the same varieties aren't always available from store to store. In the La Jolla, California, branch of Whole Foods, the market sells one seasonal type of dessert pizza, five kinds of breakfast pizza, seven meat varieties, three vegan pizzas and 10 vegetarian options. Some retailers offer gluten-free and white crusts, although most of the pizzas nationwide are made with thin wheat crusts.
Take-Home
In addition to its by-the-slice varieties, Whole Foods sells take-home pizzas that patrons can prepare themselves. Those pizza kits include sauce, cheese and uncooked or prepared, pre-baked dough. A recipe for pizza margherita on Whole Foods's website includes one dough recipe that the chain uses, which calls for bread flour, yeast, sugar, salt and olive oil. With tomatoes, cheese and herbs, Whole Foods reports that its pizza margherita has 650 calories, 29 g fat, 31 g protein, 68 g carbohydrates and 580 mg sodium per serving. A single serving is one third of the pizza.
Recipes
If it's important for you to find detailed nutritional information for Whole Foods' pizzas, stick to the recipes offered on their website, and follow them precisely so that the data is as accurate as possible. The store offers calorie counts and nutritional breakdowns for recipes including a sausage and artichoke pizza and a quick pizza margherita made with pita bread.
Nutrition Facts
Although Whole Foods currently does not to make the nutrition facts for its pizzas public, the chain tries accommodate customers and often provides data for people who request it from staff members. Even without data, you can still estimate the basic nutritional information for any Whole Foods pizza. To do it, look at nutrition labels for each ingredient that the pizza includes. Estimate the number of serving sizes in the pizza, and use that number to calculate the total amounts of calories, fat, protein and other nutrients from all ingredients in the pizza.