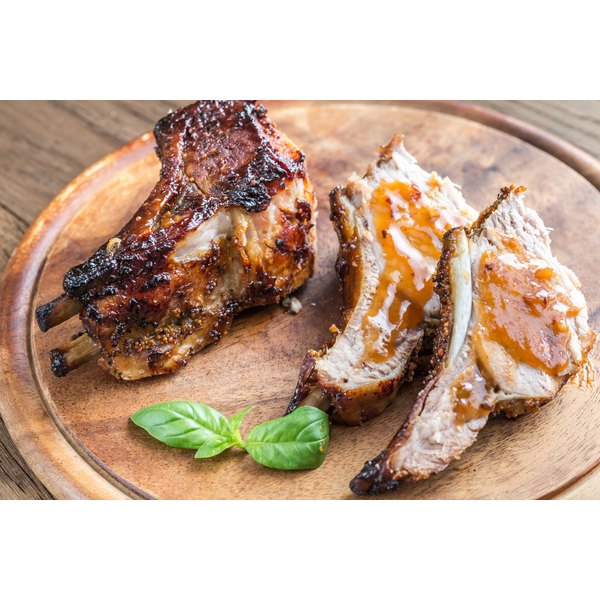 Famous Dave's is a chain barbecue restaurant that serves up traditional favorites such as ribs, brisket burgers and wings. You get some nutrients from any of the Famous Dave's menu items, and certain items are fairly nutritious. You will, however, need to be prepared to ingest a large amount of fat and sodium when you order most items at Famous Dave's.
Appetizers
Famous Dave's offers a variety of traditional restaurant appetizers, such as nachos and wings, but they're loaded with saturated fat and sodium. An order of large pork nachos, for example, contains 1,700 calories and 97 grams of fat, of which 39 grams are saturated. This is more saturated fat than you should have for the entire day, and regularly consuming too much saturated fat puts you at an increased risk for heart disease. A 12-piece order of buffalo wings contains 950 calories and 67 grams of fat, of which 15 grams are saturated. Appetizers are high in sodium, and too much sodium increases your risk of heart attack and stroke. An order of barbecue shrimp contains 2,740 milligrams of sodium, which is more than the 2,300 milligrams you should have for the entire day. Other appetizers, such as the nachos, may contain 3,000 to 4,000 milligrams of sodium.
Soup and Salads
In terms of fat and calories, soup and salads are better appetizers than anything on the menu, although certain options still contain a large amount of saturated fat and sodium. Order a fresh garden salad for 270 calories and 19 grams of fat, of which 8 grams are saturated. It has 580 milligrams of sodium, as well. A bowl of chili contains 460 calories and 29 grams of fat, of which 14 are saturated. You'll also consume 1,480 milligrams of sodium in that bowl of chili. The chili is a good source of fiber, however, with 7 grams per bowl. This is about one-third of the minimum 20 grams of fiber you should have each day, the Harvard School of Public Health recommends. Fries, mac and cheese, and coleslaw are additional sides to skip, while broccoli, carrot or celery sticks, mashed sweet potatoes or pineapple planks are more nutritious options.
Burgers and Main Courses
Burgers are rich in protein, a nutrient necessary for survival. The burgers are at Famous Dave's are high in saturated fat and sodium, however. The barbecue brisket burger, for example, contains 1,110 calories, 59 grams of fat, 24 grams of saturated fat and a whopping 5,120 milligrams of sodium. A plain char-grilled burger without cheese is perhaps your best burger option with 770 calories, 40 grams of fat, 16 grams of saturated fat and 3,030 milligrams of sodium. A Texas Beef Brisket sandwich has less sodium, with 1,360 milligrams, but it still contains 620 calories and 31 grams of fat, of which 13 grams are saturated. If you add additional barbecue sauce to your burger or sandwich, you'll increase the sodium content by between 250 and 970 milligrams, depending on the flavor. An order of the famous rib feast contains 2,400 calories, 117 grams of fat, 33 grams of saturated fat and 6,480 milligrams of sodium.
Drinks and Desserts
Skip the sweet iced tea, lemonade and soda in favor of water or unsweetened iced tea, each of which contain no added sugar and almost no calories. In terms of dessert, the bread pudding contains 1,400 calories and 81 grams of fat, of which 38 grams are saturated. The dessert also contains 121 grams of sugar. The pecan pie and praline sundae each contain more than 1,000 calories and between 68 and 99 grams of sugar. Your best bet, if you must have dessert, is the mini banana pudding or mini Key lime pie. Each has about 200 calories, and the Key lime pie option has only 7 grams of sugar.