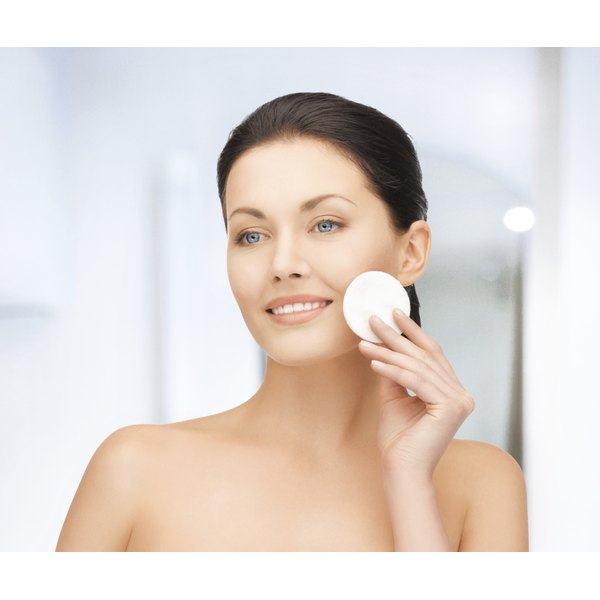 The Skinceuticals Gel Peel is a superficial acid peel designed to minimize the appearance of surface lines, smooth out rough skin texture, aid in clearing acne and help fade hyperpigmentation. The combination of glycolic and lactic acids removes dead cells from the surface of the skin without irritation. Offered only as an in-office professional treatment, the gel peel is not sold at retail. However, it is possible to purchase the product online at reputable sites. With the proper education and care, learn to perform the treatment at home.
Wash and degrease the face with a gentle, nonabrasive facial cleanser applied to cotton rounds. Pat the skin dry.

Dispense approximately two droppersful of peeling gel into a small bowl. Begin at the forehead, and working from the center out, quickly apply the product with the fan brush in an even layer to the face, avoiding the eyes and mouth. This should take no longer than 20 seconds.

Allow the gel to dry three to five minutes, and then remove remnants by gently wiping the face with a gauze pad soaked with plenty of cold water. Allow less saturation time for more sensitive skin.

Massage two to three drops of Hydrating B5 Gel into the face to calm the skin and moisturize. Rub in until absorbed. Apply an even layer of SPF 20 sunscreen onto the face.

Tip

SkinCeuticals recommends priming the skin for at least two weeks before the peel using L-ascorbic acid serums or products with AHAs. The recommended initial course of treatments is six peels -- one per week. Thereafter, once a month for maintenance is ideal. Those going on a series of SkinCeuticals peels should also be using a broad-spectrum sunscreen to protect the exposed outer layer of skin.

Warnings

This is a professional-grade acid peel and should only be used by trained and licensed skin-care professionals. Never use professional strength peel products on your face without the proper education. Do not use if you are pregnant or breastfeeding, already on a peeling program or using retinol products.