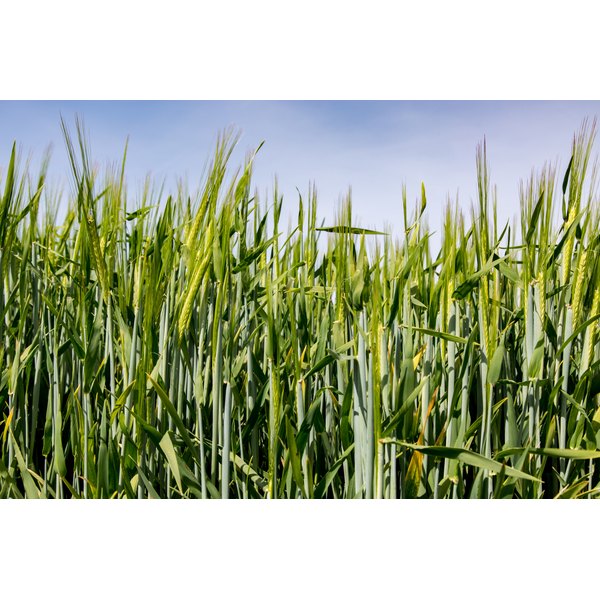 Barley is a grain used in soups, cereals and other dishes. Barley grass is the leaf of the plant that develops before the grain. Barley grain historically has been the most prized part of the plant, but more interest is developing in the leaf for its nutrition and potential health benefits. Consult a qualified health care provider before using barley grass as an herbal remedy.
Nutrition
Barley grass juice provides a wide range of nutrients, notes Drugs.com. It contains beta carotene, vitamin C and several B-complex vitamins, along with the essential minerals calcium, iron, magnesium, phosphorus and potassium. Barley grass juice also contains beneficial beta-sitosterol, chlorophyll, pectin, flavonoids and all the essential amino acids, which are building blocks of protein.
Antioxidant Properties
Barley leaf extract is an antioxidant and scavenges free radicals, according to Drugs.com. Free radicals are unstable molecules produced during the metabolism of food into energy and in response to environmental toxins; they cause harmful oxidation in the body. Free radicals damage cells and can lead to cancer and other disease. They are also associated with inflammation and the development of inflammatory disorders such as gout and rheumatoid arthritis.
Cholesterol Reduction
A study published in the June 2004 issue of "Biological and Pharmaceutical Bulletin" enrolled 40 participants with hyperlipidemia, or high levels of blood fats such as cholesterol and triglycerides. These individuals took either 15 g of young barley leaf extract or 60 g of adlay, the seeds of a type of wild grass, per day for four weeks. Both groups experienced decreases in total cholesterol and low-density lipoprotein, or LDL, cholesterol, the so-called "bad" cholesterol. Barley grass and adlay also inhibited harmful oxidation of LDL cholesterol. The antioxidant effect was weaker in smokers than in non-smokers. Drugs.com notes that the cholesterol-lowering effects of barley grass are partly due to the beta-sitosterol component, which inhibits intestinal absorption of cholesterol.
Anticancer Effects
Although research with humans is lacking, barley grass extracts have a protective effect on human tissue cells against carcinogens in a test tube environment, according to Drugs.com. This may be due to the antioxidant properties of barley grass or to its chlorophyll content, which may inactivate the carcinogens.