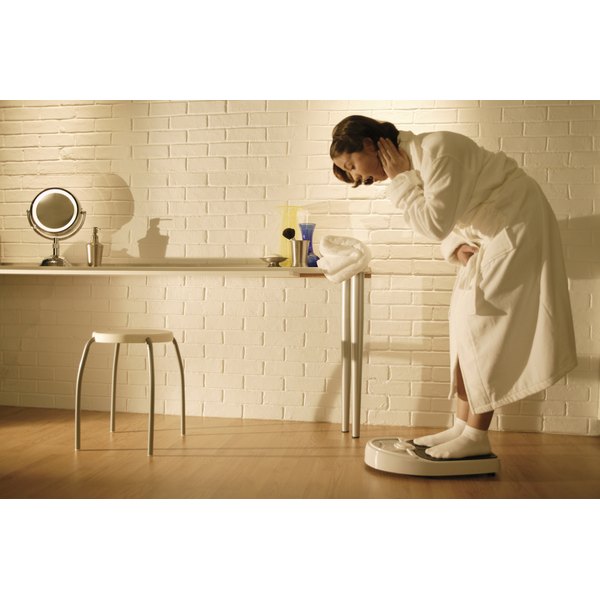 Ear stapling to lose weight isn't likely to be the best idea if you want to shed pounds temporarily or permanently. A dubious practice derived from Chinese acupuncture, ear stapling became popular as a weight loss technique in the 2000s. However, a "Time" magazine article dates this weight loss fad back to the 1970s.
Old News
In the 1970s, ear stapling was called "staplepuncture," according to a December 1974 article in Time. This weight loss fad operates on the premise that there are "obesity nerve endings" in your ears. The stapling itself was practiced by doctors who put surgical staples in the ears of patients. Staplepuncture, accompanied by a very low 400-calorie diet, drew the attention of the American Medical Association, which cautioned consumers to avoid it.
How It Works
The University of Alabama at Birmingham Health System published an online article in July 2006 that explained the recent ear stapling fad. Ear stapling, or auriculotherapy, involves placing a surgical staple in the inner cartilage or your ear, allegedly at a specific pressure point. Practitioners of ear stapling advise leaving the staple in for between two to three months, during which time the ears must be cleaned regularly to avoid infection. When the UAB Health System article was published, this procedure cost between $50 and $100 per ear staple.
Purported Results
According to the UAB Health System, ear stapling purportedly curbs your appetite, which in turn results in weight loss. Other claims associated with ear stapling is that it can help you stop smoking, reduce migraines and curtail hot flashes associated with menopause. However, there's no hard science to indicate that ear stapling helps you lose weight. Proponents of ear stapling often stress the importance of diet and exercise – weight loss techniques that will work regardless if you had your ears stapled or not. The UAB Health System also points out that the placebo effect may be responsible for the purported success of ear stapling; if you believe that it works, it does.
Cautions
Mayo Clinic nutritionist Katherine Zeratsky points out the risk of serious infection whenever you have your ear cartilage punctured. The practice of ear stapling is not closely regulated; in many states, practitioners are not required to be licensed. The UAB Health System reports that the Mississippi Board of Medical Licensure closed 35 businesses that performed ear stapling in 2006 after receiving numerous complaints from clients with infected ears.
Other Information
Some studies suggest that traditional acupuncture may be beneficial for weight loss, Zeratsky says; however, this does not hold true for ear stapling. Ear stapling is not a medical treatment approved by the U.S. Food and Drug Administration for any purpose. The UAB Health System advises you to talk to your doctor before having this procedure done. If you decide to follow through, make sure to have a medical doctor familiar with acupuncture perform the procedure.