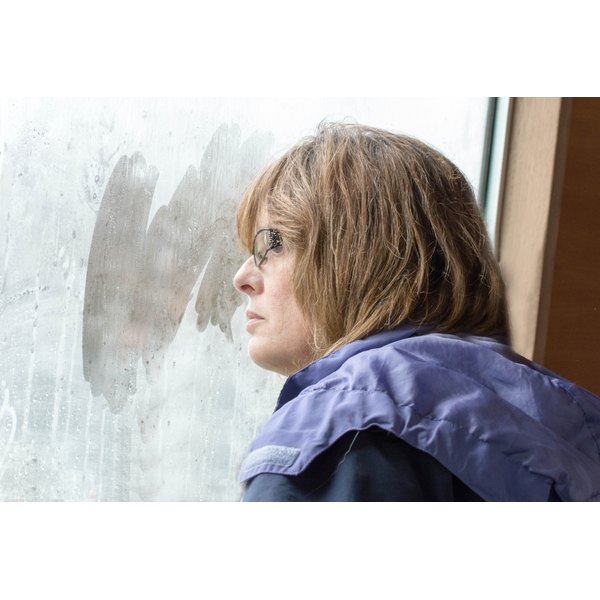 "When I get older, losing my hair / Many years from now." You probably envisioned the men in your life -- not yourself -- when you sang this Beatles song. But many an aging woman finds that her hairbrush and drain are retaining more of what used to be a thick, healthy head of hair. Your hairline may even be receding a bit. Female pattern baldness can affect perhaps 16 percent of women under 50, and as many as 30 percent to 40 percent of those 70 and older. Menopause can be a contributor, but you can work to prevent hair loss.
Hair Today, Gone Tomorrow?
Hair normally grows, rests and then falls out. Hair loss occurs when it doesn't grow back. Menopause brings a decrease in the female hormones estrogen and progesterone and an increase in the male hormone androgen. This shift in hormones can result in hair follicles closing and hair getting thinner. As with male hair loss, genetics plays a role. Hormone replacement therapy sometimes actually increases hair loss instead of helping.
The Stress Factor
Since the hormonal changes during menopause might affect hair loss and also sometimes create stress -- which in turn can be a trigger for hair loss -- you might get hit with a double whammy. Stress "mobilizes a steroid hormone response body-wide, as well as locally at the target hair follicle," causing hair loss for weeks or months, says dermatologist Wilma F. Bergfeld in an article in "The New York TImes." The link is not widely understood, but do your best to minimize stress -- a healthy lifestyle can help with stress and many menopause symptoms.
Handle With Care
Too much hair care -- coloring, perming, relaxing, highlighting, blow drying -- can damage hair, so less is best. What may not hurt in the short term might catch up with you about the time you reach midlife and menopause, says complementary medicine practitioner Ronald Hoffman in "Intelligent Medicine." Even yanking hair into a ponytail, repeated over the years, can be counterproductive to hair health. Chlorine from swimming and too much sun can damage your locks, too. Cover up with a swim cap or hat, and use a protecting conditioner before you hit the beach or the pool.
Time for an Intervention?
Scientists are still studying the many factors involved in hair loss, both male and female, but if you're concerned about it, check with your doctor. Low thyroid, autoimmune conditions or other factors could be at work. Hormone replacement or prescription medications used in male baldness such as minoxidil or Rogaine might be an option.