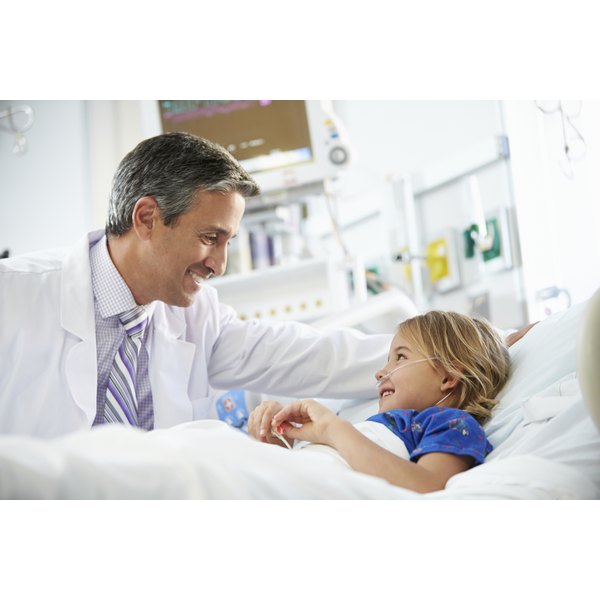 According to the World Health Organization, acute lower respiratory infections are responsible for 20 percent of the deaths in children under the age of 5 years, and 90 percent of those deaths are attributed to pneumonia. Amoxicillin, a penicillin-like antibiotic, has recently been shown to be effective in treatment of severe pneumonia, notes WHO.
Indications
Amoxicillin works well against many of the bacteria that cause pneumonia in children including various strains of staphylococcus and Haemophilus influenzae. Doctors also prescribe amoxicillin when they suspect a child's pneumonia is caused by alpha- or beta-hemolytic strains of streptococcus or by Streptococcus pneumoniae, notes the Daily Med website.
Contraindication
Some bacteria produce a substance called beta-lactamase that interferes with the effect of antibiotics like amoxicillin. For this reason, amoxicillin is not appropriate for children whose pneumonia is caused by beta-lactamase-producing bacteria, states the Daily Med website. It is also contraindicated in pneumonia related to Methicillin-resistant Staphylococcus aureus, or MRSA, that's found in hospitals and communities around the globe.
Dosage
From birth through 12 weeks of age, babies with pneumonia typically need 30 mg/day of amoxicillin for every kg of body weight, divided into two doses, states RxList.com. Doctors usually prescribe 45 mg/kg/day in two divided doses or 40 mg/kg/day given in three equal doses over a 24-hour period to treat pneumonia in children over the age of 3 months.
Availability
Amoxicillin has been around for many years and various manufacturers have created different brand names and formulations of the drug. For infants and toddlers, there are oral drops and suspensions. Toddlers and younger children may do well with chewable tablets, while older youngsters who can safely swallow pills can take either regular tablets or capsules, notes PubMed Health.
Expert Insight
WHO recommends that children with severe pneumonia be admitted to hospitals to receive intramuscular injections of ampicillin or penicillin. If that's not possible, WHO notes, children with severe pneumonia should take oral amoxicillin 3 times a day for 7 days. WHO's new emergency health kits contain a different antibiotic, but WHO notes that amoxicillin is an acceptable alternative.
Warnings
Just like penicillin and other penicillin-like antibiotics, amoxicillin can cause a life-threatening allergic response known as anaphylaxis. It's crucial to see emergency medical attention for any children who develop itching, hives, facial or lip swelling, shortness of breath or difficulty swallowing during their course of amoxicillin therapy.