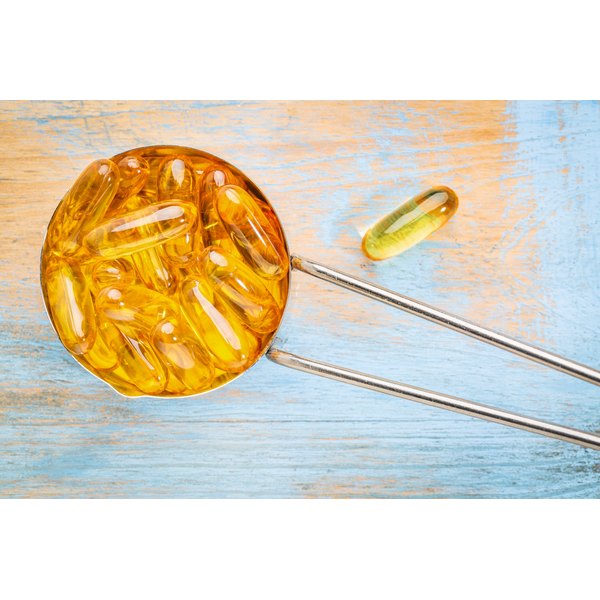 Ocuvite, made by Bausch & Lomb, is a supplement made specifically for eye health. Ocuvite comes in many formulas, each for a specific age group or eye health concern. Bausch & Lomb touts Ocuvite as the number one recommended brand of eye vitamins by eye care professionals; however, the benefits of the vitamin formulas have not been reviewed by the Food and Drug Administration (FDA).
Lutein
According to Pamela Wartian Smith, M.D., author of "What You Must Know About Vitamins," lutein is essential to eye health. Lutein protects the eye's macula from UV light. The macula is the center part of the retina and provides the clearest vision.
Ocuvite contains 6 mg of lutein. While lutein is recommended by many doctors and eye professionals for ideal eye health, the FDA has not found any scientific information to back these health claims.
Drugs.com notes that lutein should be used with caution, as it can cause headaches and eye discomfort with prolonged use.
Antioxidants
Ocuvite contains vitamins A and C and E. In "Your Best Medicine," Mark Goldstein, M.D., writes that eye issues such as macular degeneration and glaucoma are attributable to free radicals that damage healthy eye cells and cause vision problems. Antioxidants such as vitamins A, C and E guard against damage by free radicals, according to James Balch, M.D., author of "Prescription for Drug Alternatives."
More Antioxidants
Certain Ocuvite formulas include additional antioxidants such as selenium and minerals like copper to aid with eye health. Selenium deficiency symptoms include eye disorders such as cataracts. Goldstein states that selenium is best taken with vitamin E, and recommends a dosage of 200 mcg daily.
Copper is an essential trace mineral that can prevent certain age-related disorders. Copper partners with vitamin C to increase antioxidant effectiveness. Zinc also binds with copper to reduce deficiency symptoms.