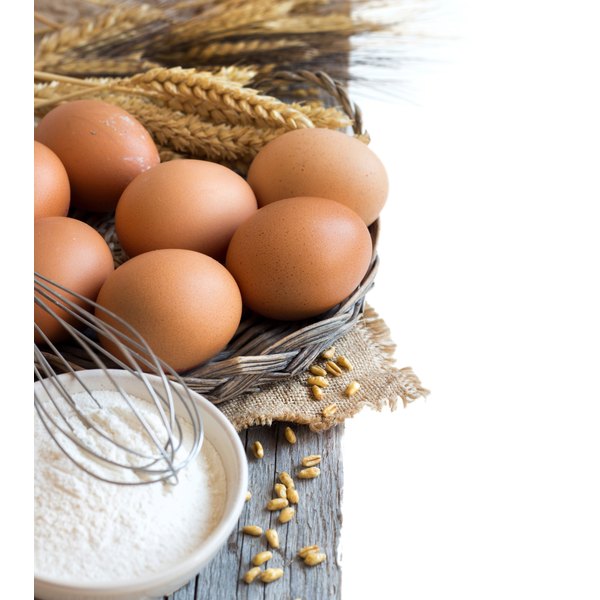 Alone or as cooking ingredients, milk, cheese and eggs are staples in many kitchens. All three are rich in protein and minerals as well as vitamins. Cheese, being a milk product, provides many of the same nutrients as milk. Eggs, however, contain some nutrients that neither milk nor cheese possess in significant amounts. Exact nutrient content varies among different types of milk, cheese and eggs, so check the labels on the varieties you prefer.
Vitamin D
Vitamin D helps the body maintain healthy blood levels of calcium and phosphorus. Vitamin D levels in non-fortified milk vary, warn experts from the Dairy Council of California, but milk fortified with vitamin D is a reliable source. Cheese, on the other hand, isn't a significant source of vitamin D. Eggs aren't unusually rich in vitamin D, but they do contain some. A 50-gram egg can give you 2 percent of your Recommended Daily Intake, or RDI, for this vitamin, which is 600 international units.
Vitamin A
Vitamin A is essential for normal cell development and good eyesight. You need a small amount daily -- 2,333 international units for women and 3,000 for men. Drinking 1 cup reduced-fat 2-percent cow's milk provides you with 184 IU of vitamin A. A 1-ounce serving of cheddar cheese contains 84 RE, or 280 IU, of vitamin A. American, Swiss and mozzarella cheeses are also significant sources of this vitamin. A single 50-gram chicken egg provides 8 percent of the RDI for vitamin A, according to the Alberta Egg Producers.
B-complex Vitamins
Helping the body derive energy from food is one of the main functions of the B vitamins. Milk and cheese contain small amounts of vitamin B-12, but no significant amount of other B-complex vitamins. An 8-oz. cup of reduced-fat 2-percent milk contains 1.12 micrograms of vitamin B-12 -- a significant amount toward the total of 2.4 micrograms you need daily. A 1-ounce serving of Swiss cheese provides 0.95 micrograms, but cheddar and mozzarella contain less.
Egg yolks, however, are rich sources of B vitamins. A 50-gram egg provides 30 percent of the RDI of vitamin B-12 and is also a significant source of riboflavin, or vitamin B-2, and folate.