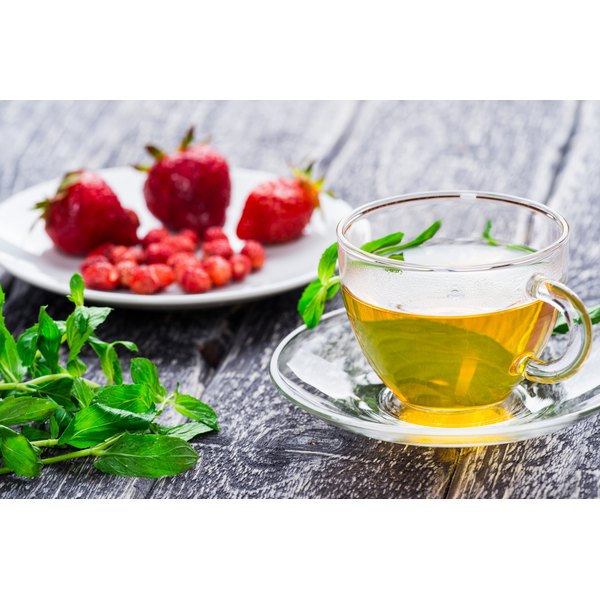 Tazo Herbal Infusion Refresh Herbal Infusion contains three herbs: peppermint, mint and tarragon. An herbal infusion by definition is not a tea, because it does not contain leaves of the Camellia sinensis plant. According to the product website, herbal infusions "include leaves, flowers, grasses, roots, barks, fruit peels, berries and spices." All three herbs in this product have properties that benefit the digestive system; the Refresh herbal infusion is particularly appropriate for drinking after a meal.
Peppermint
Peppermint can ease all kinds of gastrointestinal problems such as indigestion, vomiting, nausea and gas. The German Commission E, which regulates use of herbs, approves the use of peppermint for spastic disorders of gastrointestinal tract. However, peppermint is not advised for those who have gastroesophageal reflux disorder because it may relax the upper stomach sphincter and allow stomach acids to irritate the esophagus. Those with gallstones should also avoid this herb.
Spearmint
Botanical.com says spearmint is used primarily for cooking. It does have similar benefits to the digestive system as peppermint, but to a lesser extent. According to the website Herb Companion, spearmint is used primarily as a flavoring in tea. Spearmint affects reproductive hormones.
Tarragon
Tarragon also imparts benefits to the digestive system as it increases the rate of digestion in the stomach. It may ease gas and dyspepsia as well. Tarragon essential oil should be avoided by pregnant women and small children.