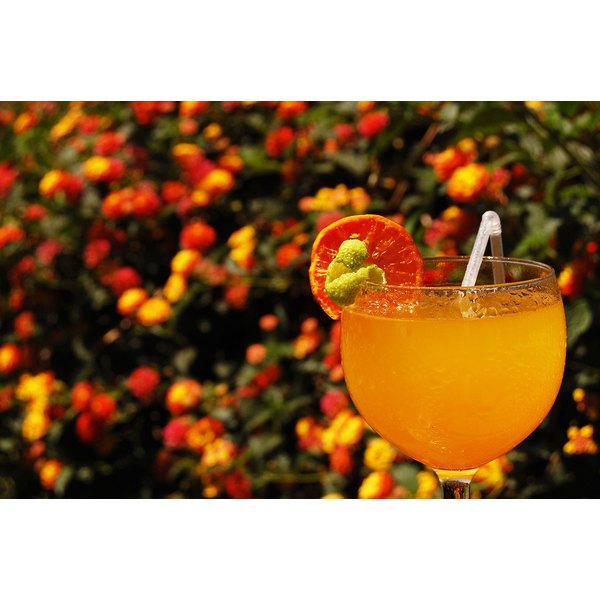 Jugo Juice is a smoothie and juice chain restaurant that aims to provide nutritious foods that also taste good. The smoothie chain offers an extensive smoothie and juice menu, as well as foods such as flatbreads and wraps. If Jugo Juice is a restaurant you normally frequent, it can be helpful to know how nutritious some of the menu items are so you can make the best choice for yourself.
Tip
One serving of Jugo Juice is reported to have 315 Calories, according to the nutrition facts provided by livestrong.com.
Smoothie Stats
Smoothies make up the largest part of the Jugo Juice menu, and the fact that they're made from fruit juice and fresh fruit makes most of them a nutritious choice. For example, the Jugo Classico is made with strawberries, bananas, apple juice and orange juice, which means that it also supplies more than 100 percent of your daily recommended intake of vitamin C. In fact, many of the smoothies, such as Watermelon Wiggle, Mango Magic and Pineapple Powerzone, supply at least 100 percent of the vitamin C you need each day. Other smoothies, such as Mighty Kale, Carrot Gold and Ever Greens, supply a good portion of your vitamin A requirements as well. The fresh fruits and vegetables in most of the smoothies also provide fiber, potassium and small amounts of calcium and iron.
Juice and Water Info
The fresh juices offered at Jugo Juice are another nutritious choice, and they are lower in calories than most of the smoothies as well. The Carrot-Apple Juice, for example, contains 184 calories, as well as more than your daily requirement for vitamin A. The Carrot-Orange and Max Veg juices also supply more than your daily requirement for vitamin A. Many of the juices also supply an impressive dose of vitamin C. The veggie juices, such as The Big Beet, Kale's King and Cool Cucumber, are good sources of dietary fiber. The coconut water blends don't contain added sugar, making them a refreshing and nutritious choice as well.
Food Fest
The Jugo Juice menu has a limited number of food items to pair with their smoothies and juices. The Chipotle Club, Spicy Mango Chicken and Ham and Cheese flatbreads are each a good source of protein and iron, but the flatbreads also tend to be quite high in sodium. The Chicken Caesar Flatbread, for example, contains 61 percent of your daily sodium limit. The grilled wraps are also good sources of protein and iron, and though they tend to be lower in sodium than the flatbreads, they still contain a large amount of the salty stuff. They are also fairly high in saturated fat. Opt for one of the Snackin' wraps, which, while smaller than the original, are lower in sodium, calories and saturated fat.
Other Jugo Juice Offerings
The Jugo Juice breakfast menu includes nutritious choices, such as granola bars, which are a good source of iron, and fruit and yogurt parfaits, which add a bit of calcium to your meal. The tomato and avocado sandwich is low in saturated fat and supplies about one-quarter of the fiber you need for the day. The smoothie chain also offers wheatgrass shots, which are a good way to add some vitamin A to your diet. In addition, Jugo Juice offers a variety of powdered supplements, such as rose hips and ginseng, that you can have added to your smoothie. Always ask your doctor about these before consuming them, however, to be sure they're safe for you.