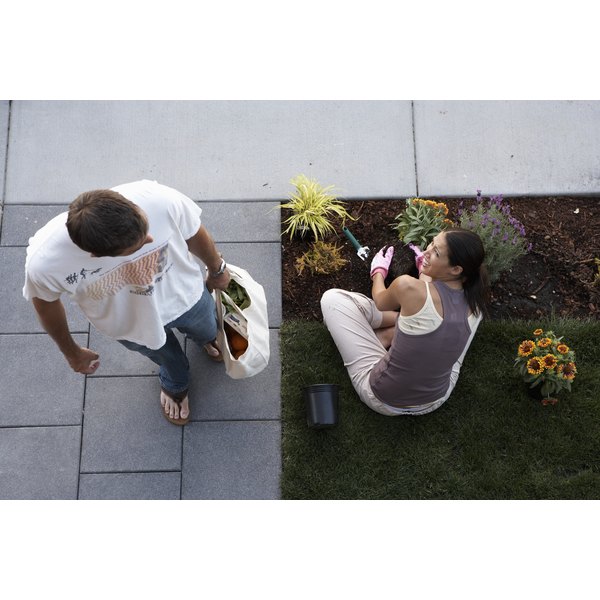 Feeling lonely and being alone are not one in the same. Many women can spend time alone yet not feel lonely, while other women can be sitting next to their husbands watching movies together and feel lonely. Loneliness encompasses rejection, abandonment and emptiness while alone time allows you the freedom to do something you enjoy in the company of yourself, says Dr. Gail Saltz, psychiatrist and best-selling author.
Back in Time
Old feelings of rejection and abandonment left over from childhood can arise once the newness of the marriage has worn off. Gaining self-awareness is important when dealing with your loneliness, as you are placing expectations on your husband that he likely can't meet, and possibly causing tension in your marriage. Mark Epstein, M.D., psychiatrist and author of "When Love Gets Lonely," published on the Oprah website, recommends feeling and sitting with your loneliness to get a sense of the thoughts and judgments that come up. For example, when your husband is out with friends, what thoughts lead to your loneliness? Once you have your answer, you will find it easier to work on solutions.
Rekindle the Flames
Life changes, and your marriage may need a recharge to catch up with other areas of life. Dealing with jobs, kids, your home and perhaps aging parents, you may be more like co-workers struggling to reach a deadline than husband and wife. In this case, your loneliness is likely from a lack of sharing and communication, says Dr. Saltz. Set aside time to talk with one another each week. Touch his shoulder or his cheek as you talk to your husband. Surprise him by setting up a special date for the two of you. Consider the possibility of reliving your first date to reconnect and bring back some of the feelings from the past.
Mirror, Mirror
Your loneliness may have nothing to do with your marriage but everything to do with your sense of self. Women who are lonely in their marriages may not feel comfortable being with themselves and may suffer from low self-esteem, says Mary Ellen Copeland, author of "The Loneliness Workbook." These women generally need constant companionship, struggle with feelings of rejection when alone and wait for others before engaging in an activity, says Copeland. While your marriage is not necessarily in jeopardy, you likely need to find ways to deal with feelings conjured up by your isolation.
Afraid of Your Shadow
Your loneliness may stem from feelings of dependency and neediness, according to Dr. Saltz. Note what you are passionate about and develop your own interests outside of your marriage. Get to know yourself and practice being alone as this will help to decrease the dependency and neediness. Make a list that includes things you have wanted to try or activities you enjoy. Some examples include reading romance novels, listening to music, taking long walks in nature and star-gazing. When loneliness strikes, utilize your list rather than waiting and expecting your husband to ease your loneliness. Share your experiences with your husband as a way to connect with him on a positive level.