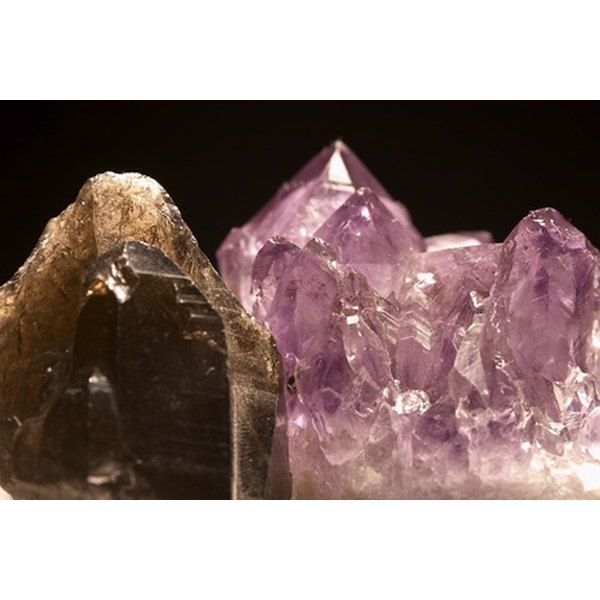 Crystals have been used since ancient times for a number of purposes and, including healing various ailments. Depending on the property of the crystal, different crystals are typically used for specific functions. The website Peaceful Mind explains crystals can be especially beneficial in assisting weight loss.
Definition
The NHS Trusts Association explains that the aim of crystal therapy is to find wholeness, balance and health, and crystals work on the emotions, mind, spirit as well as the physical body altogether. Different properties of a crystal enable it work on also different aspect of a person's well being and can be used to achieve balance and restoration in a desired area. Crystals work on the subtle energy system of a person.
How to Use Crystals
Crystals need to be cleaned or cleared before and after use. Durable crystals may be cleared with intention under running water; others can be cleared with Reiki. It is important that they are used with directed intention according The Crystal Experience. This may be in making the intent for melting fat, better metabolism, motivation for exercise, or better attitude to taking control over eating habits. They are then placed in a purse, pocket or beside the bed during sleep. Seeking the assistance of a crystal therapist can be especially beneficial.
Types
Because different crystals differ in effects and work differently with individuals, one may feel that a particular crystal works best for himself while another person has greater success with another type of crystal. For example, Staurolite helps with promoting a healthy attitude towards bettering eating habits and exercise. Healing Crystals recommends Lolite, Kyanite, Seraphinite, and Apatite for weight loss.
Options
Self administering of a program through carrying or sleeping with a chosen crystal may work well for some people. A crystal practitioner will recommend which crystals might also be needed since the therapist, although not permitted to diagnose physical ailments, may establish related issues to successful weight loss that need addressing, for example, low self-esteem, problems with stress, motivation, or depression. Crystal elixirs may be used for weight loss. As explained by Micheal Gienger, the author of "Gem Water," some crystals are toxic. A professional's guidance is recommended.
Treatment
Like any program for weight loss, there is no magic formula and crystals are tools to assist in the process. Intention and commitment will insure greater success with use of crystal healing. Peaceful Mind emphasizes discipline is paramount in any therapy, including crystal healing.