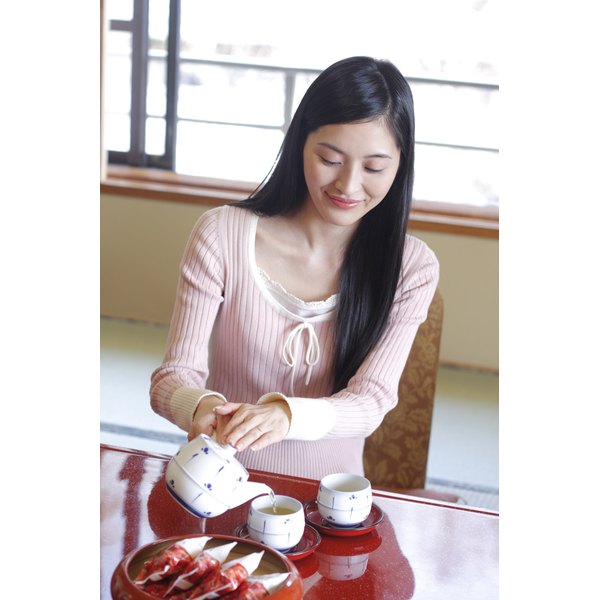 When attempting to lose weight, the best results can be achieved by combining a healthy diet high in fruits and vegetables and low in processed foods, with a regular exercise program. For those who may need an extra boost, weight loss supplements can help produce a modest, yet noticeable effect in some people. Among the most studied and proven weight loss supplements are whey protein, green tea pills, fiber supplements and conjugated linoleic acid.
Whey Protein
Whey protein, a dietary supplement derived from cows milk, is most commonly known for its ability to help increase muscle mass. However, a study published in 2008 in "Nutrition and Metabolism" found that subjects on a reduced calorie diet lost more weight when using a whey protein supplement, when compared to a control group. The authors also note the ability of whey to spare lean body mass while decreasing fat mass.
Green Tea Supplements
Green tea contains caffeine and another compound that may be useful for promoting weight loss. A study published in 2005 "Obesity Research" found that a green tea supplementation was able to induce weight loss through fat oxidation and thermogenesis -- the burning of calories through heat production inside the body. A 2006 paper published in the "Journal of Medicinal Food" noted that green tea intake is associated with weight loss due to its concentrations of an antioxidant substance known as Epigallocatechin gallate, or EGCG.
Fiber Supplements
Fiber supplements can be useful in reducing body weight, particularly in people who lack dietary fiber. A 2010 paper published in the "Journal of Clinical Gastroenterology" noted that fiber supplements not only reduce body weight, but a number of other risk factors for disease, including high blood pressure and inflammation. The authors concluded that various of fiber supplements can be used to, not only reduce body weight, but to decrease hunger, with psyllium -- a soluble bulking fiber -- being among the most effective.
CLA
Conjugated linoleic acid, also known as CLA, is a fatty acid that has shown some efficacy in reducing body weight. A 2007 meta-analysis published in the "American Journal of Clinical Nutrition" noted that, while CLA has been able to consistently reduce body fat and animals, human studies have been inconsistent. The researchers reviewed 18 eligible studies and concluded that CLA, when consumed at a dose of 3.2 grams per day, can modestly promote fat loss in humans. A study published in 2012 in "Nutrition," found that CLA supplementation, for a 12-week period, was able to reduce obesity in participants, with no obvious side effects.