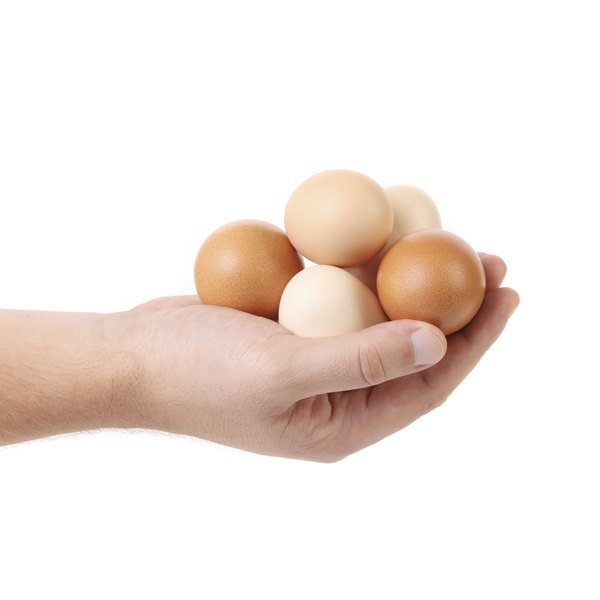 Although wheat makes up a staple in the average American diet, it contains gluten, which can cause negative side effects in some people. Those sensitive to gluten can suffer digestive upset after eating gluten-containing foods, and people with celiac disease develop intestinal damage. A gluten-free diet helps you avoid these pitfalls and increases your quality of life. But a gluten-free diet can have some unintended consequences, including a higher risk of folate deficiency, which can cause birth defects during pregnancy. If you're going gluten-free for reasons other than celiac disease, make sure with you check with your doctor first, recommends Harvard Health Publications, and make sure to incorporate folate-rich foods into your diet.
Egg-Based Dishes
Eggs are naturally gluten-free, so you can use them as a base for a range of gluten-free breakfast foods. They also provide essential nutrients, including high-quality protein, selenium, vitamin A and choline. Make poached eggs and serve them on a bed of steamed kale, or combine eggs with sauteed vegetables for a healthful breakfast scramble. If you have some time in the morning, make mini crustless quiche -- simply pour a mixture of eggs, nonfat milk, vegetables and chopped lean meat into muffin tins and then bake until the eggs are set. Choosing veggies like asparagus, green beans and artichokes provide much-needed folate. Freeze any leftovers, and then microwave them for quick breakfasts throughout the week. If you need to limit your cholesterol intake, use egg whites instead of whole eggs, or mix one whole egg with a few egg whites for your breakfast.
Porridge and Oatmeal
A breakfast staple for many Americans, oatmeal and other types of porridge fit well into a gluten-free diet. Shop for certified gluten-free oats, recommends the Colorado State University Extension, because regular oats might come into contact with gluten during processing. Sweeten your oatmeal with gluten-free fixings, including maple syrup and fresh fruit. If you're feeling adventurous, make your morning porridge by cooking quinoa in dairy, soy or almond milk, then topping it as you would normal oatmeal. Alternatively, start your day with a bowl of whole-grain corn grits topped with steamed veggies and a touch of cheddar cheese.
Dairy-Based Breakfasts
Serve yogurt or cottage cheese for healthful breakfasts -- just make sure to check that they're labeled gluten-free because some varieties might contain wheat products. Both foods come packed with protein to nourish your muscles and also contain calcium that you need for healthy nerves and bones. Add more nutritional value by topping your cottage cheese or yogurt with sliced fruit. Top your meal with homemade granola, made from a mixture of nuts, seeds, dried fruit -- choose dehydrated apples and dried apricots as sources of folate -- and certified gluten-free oats. If you crave a bit of sugar, sweeten your breakfast with maple syrup or honey.
Breakfasts With Flour Alternatives
Use alternative flours to make gluten-free versions of breakfast staples. The Le Cordon Bleu website lists almond and coconut flours as suitable for both gluten-free and low-carb diets and highlights buckwheat flour and cornmeal as gluten-free alternatives. Using coconut or almond flours yields dense baked goods, while foods made with buckwheat and corn flours have a texture more similar to those made with wheat flour. Use flour alternatives in place of wheat flour to make breakfast muffins, or mix gluten-free flour alternatives with beaten egg whites, folate-rich mashed bananas and cinnamon and then use the resulting "batter" for pancakes.