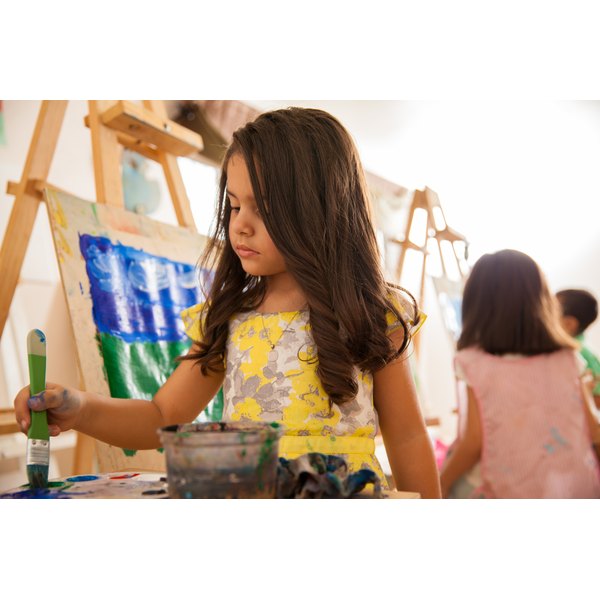 When budget cuts are needed at educational institutions, art programs are often among the first to go. While art programs are typically not considered part of the core curriculum at most elementary, secondary and post-secondary schools, they do offer students who participate in them several advantages. A program in art education can provide students of all ages with a solid foundation for their educational, emotional, social and creative development.
Improved Learning Skills
Programs in art education can potentially help students to excel in other academic areas, particularly in reading and mathematics. According to Americans for the Arts, art programs can be particularly beneficial in helping children of preschool age to develop their cognitive, motor and language skills. Art programs can help to improve memory and concentration skills, develop decision-making and critical thinking skills, enhance communication and listening skills, help children to establish spatial-temporal relationships between objects and encourage focus and discipline. Citing a 2006 study by the Guggenheim Museum, the New York Times suggests that a foundation in the arts can also help to improve literacy skills, particularly among children who are just beginning to read.
Enhanced Social Skills
An education in art can also help to improve social skills and self-esteem. Children who participate in art education programs learn to work as part of a team and understand different points of view, according to Americans for the Arts. They are also able to develop an understanding and appreciation for different cultures, which can translate to an increased sense of tolerance and social acceptance. Art programs also help children to develop a greater sense of craftsmanship and pride in their finished work. As children are encouraged to follow their vision and do their best, they can develop a greater sense of confidence and self-esteem. This increased confidence can lead to greater social participation in school. According to Abrakadoodle, a national children's art program, children who participate in the arts are four times more likely to serve as a class officer or participate in a math or science fair.
Increased Creativity
Programs in the arts encourage children to be creative and use their imagination as much as possible. This increased emphasis on creativity can help to foster new ways of thinking about the world in general. According to The Boston Globe, art programs are critical in helping students to expand their understanding of their place in relationship to the rest of the world. Students who participate in art programs are encouraged to use their creative minds to enhance their observational skills and "think outside the box" in terms of problem-solving. Art programs encourage innovation and nonlinear thinking, skills that can be used not only in academic settings but in the professional world as well.