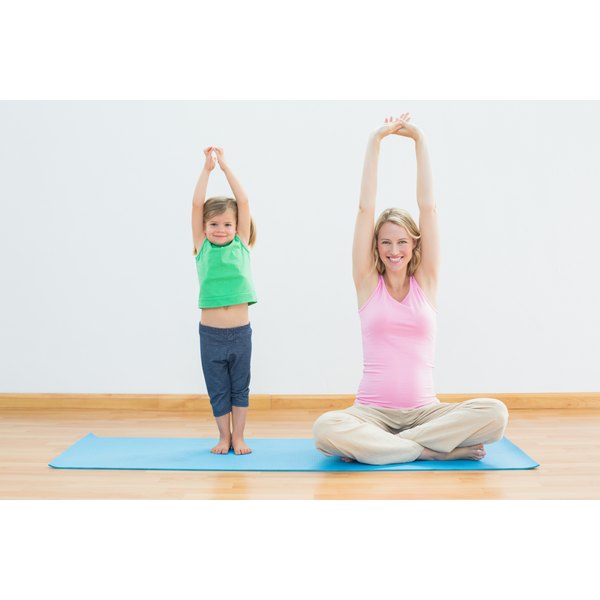 Spending quality time with your child promotes bonding and gives you, the parent, an opportunity to model healthy behaviors. Creating opportunities to exercise daily can be as convenient as popping in a kid-friendly exercising DVD that you and your child can enjoy together. When trying out an exercise DVD for the first time it's a good idea to watch the entire workout first to ensure it is appropriate for you and your child. Exercising with your child in the comfort of your home with Mommy and Child exercise DVDs is a great way to spend time together and to engage in a health-enhancing activity.
Selection
Numerous exercise DVDs are available in stores and online with a few targeting parent and child. It's more common to find kid-focused exercise DVDs led by instructors who have adult exercise series, such as Denise Austin and Billy Blanks of Tae Bo fame. Choosing kid-friendly videos by instructors in formats you are familiar with can provide you and your child with a challenging workout. If you want to entice your child to workout with you, be prepared to tolerate 'kid-talk' and perhaps silly moves.
Age-Appropriate
Exercise DVDs are generally categorized by age, with only a few available for Moms with toddlers or younger. Many of the available kid-friendly exercise videos are for school-age children, with short five to 10 minute workouts, and the entire DVD only 30 to 40 minutes in length. Trying a new format can provide a challenging workout for an adult even if it is an exercise DVD created for children. If you've never tried martial arts, then trying "Kick To Get Fit Jr. for Kids" can give you a great workout while learning new moves with your child.
Energizing Experience
When your child is full of energy you may want to channel that energy through exercise. It's also great for relieving excess stress for you, the parent. Look for exercise DVDs that target the cardiovascular system and that have easy-to-follow movements. If you like to dance, then choosing a dance-based video for children such as Kari Anderson's 29-minute exercise DVD "Shake" created for kids six to 11 years old may appeal to you as well.
Mind-Body Exercise
It's important to expose your child to all types of exercise. Yoga can be a fun way to exercise with your child and share a calming and soothing experience through exercise. There are yoga DVDs for children which you may enjoy, such as well-known yoga expert Rodney Yee's "Yoga Journal's Family Yoga" DVD. If you are already a yoga enthusiast, then doing the poses with the direction of a kid-friendly DVD will free you to perform at your level of comfort and challenge while your child can stick to the programming on the DVD.
Enjoying the Experience
If you're a mom who desires to lose weight or prepare for a marathon, you may not find an exercise DVD suitable for working out with your child and reaching those goals. A different mindset may be required, one that is open to primarily playing to exercise and having fun. The more you can enjoy working out with your child, the richer experience it is for both of you. Be creative and explore exercise DVDs that appeal to your inner child. Enjoying the experience of exercising with your child can impart the valuable lesson that exercise is fun.