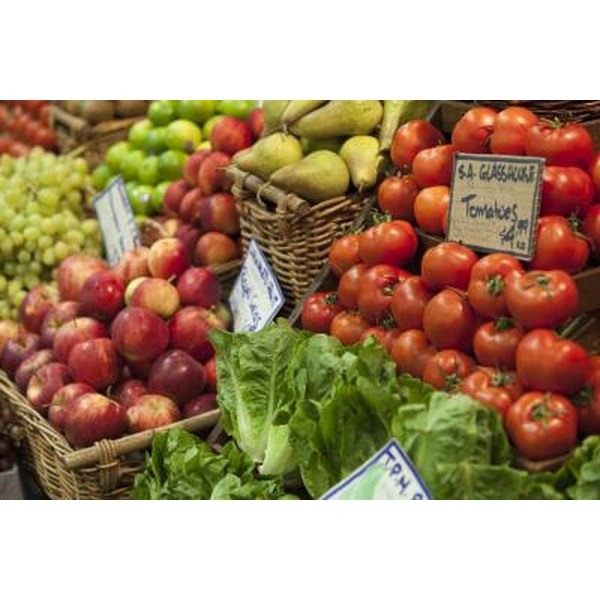 You don't have to be a vegetarian to eat a plant-based diet. But if you're looking for a diet that's really going to boost your health, a plant-based diet is the way to go. Such a diet encourages you to eat more fruits, vegetables and whole grains. While you can certainly eat potato chips and cake on a plant-based diet, if you're looking to reap the health benefits from the diet, you're better off eating more whole foods.
Load Up on Fruits and Veggies
As natural whole foods, fruits and vegetables should fill your plate at meal times when following a plant-based diet. Not only are they low in calories and fat, but fruits and vegetables are rich in nutrients that help your body stay healthy and fight disease. Include an array of colorful fruits and vegetables throughout the week to vary your nutrient intake. Healthy choices include red tomatoes, purple blackberries, orange sweet potatoes, yellow nectarines, green broccoli and white onions.
Whole Grains for Health
Whole grains make a good choice when trying to eat more whole foods on your diet. The U.S. Department of Agriculture recommends you make at least half your grain servings whole grain. They are a good source of fiber, magnesium and selenium, and eating more may reduce your risk of heart disease. Healthy whole grains include oats, brown rice, quinoa, barley and corn.
Plants Have Protein, Too
Meat is not the only source of protein in your diet. Grains, vegetables, beans, nuts and seeds also provide protein. In addition to whole grains and vegetables, you should also include a variety of beans, nuts and seeds on your whole food plant-based diet. Beans make a nutritious addition to any grain or vegetable dish, while nuts and seeds add crunch to salads and make filling snacks. Try black beans, kidney beans, soybeans, chickpeas, lentils, almonds, cashews or sesame seeds.
Heart-Healthy Oils
Oils are also an important part of your healthy plant-based diet. Plant oils, such as olive oil, contain high amounts of monounsaturated and polyunsaturated fats. These fats do not raise cholesterol levels like the saturated fats found in animal fats, such as butter. Other healthy plant oil choices include safflower oil, soy oil and sunflower oil. Nuts and seeds also contain these healthy fats.
A Word About Meat
You can still eat meat when following a plant-based diet. But you should make healthier choices. That means eating more fatty fish, such as salmon, and poultry. Lower your consumption of red meat.