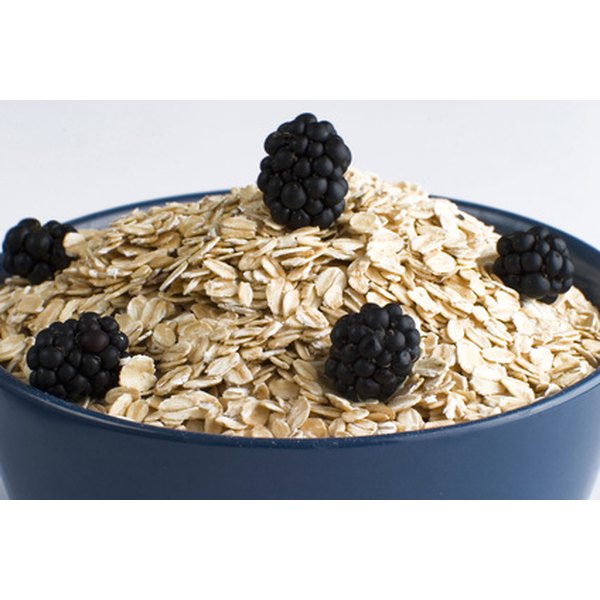 According to the KidsHealth website, nutrition bars for kids are popular dietary options, largely due to the prevalence of families eating on the go. Before purchasing the latest granola bar, cereal bar, energy bar or protein bar, however, you should understand the advantages and disadvantages of such snacks. They typically offer more nutritive value than fat food or vending machine snacks, but some nutrition bars do not measure up, nutrition-wise, as a healthful snack.
Cereal Bars
The Mayo Clinic's fact sheet about healthy breakfasts discussed the nutritive value of cereal bars, and recommended that parents compare cereal bars' nutrition labels to those on nutritious dried cereals. A cereal bar alone, even one with dried fruit or yogurt, does not typically offer a full, nutritive breakfast. Serve a whole grain, low-sugar, low-fat cereal bar with a glass of milk and a piece of fruit.
Granola Bars
Registered dietician Michelle Coyle recommends carefully studying labels before purchasing granola bars for kids. Unhealthy ingredients found in many prepared granola bars include high fructose corn syrup, palm oil, palm kernel oil, trans fats, bleached flour, unbleached flour and wheat flour. Look for whole grains and nuts. Coyle recommends granola bars such as Quaker Oats: Simple Harvest, Kashi TLC Chewy Granola Bars, Barbara's Crunchy Organic Granola Bars, Nature Valley Granola Bars and Health Valley Chewy Granola Bars.
Energy Bars
Many energy bar recipes contain protein sources such as nuts, soy, yogurt or peanut butter. Parents should check nutrition information on the bars, because many energy bars feature chocolate, coffee and sugar in addition to protein. According to the Moms Team energy bar comparison test, the ClifBuilder's Bar earns top ratings for its mostly organic and whole ingredients, including 20 g of soy protein. Another favorite pick for kids is the Kashi GOLEAN Chewy Protein and Fiber bar, which contains all-natural, whole ingredients.
Homemade Nutrition Bars
One of the best ways to control the ingredients in your kids' nutrition bars is to make them yourself. The Bohemian Revolution website contains 15 recipes for protein and energy bars, including a gluten-free almond power bar, no-bake peanut butter bars and dairy-free energy bars. Most recipes draw upon simple, whole ingredients such as rolled oats, nuts, dried fruit and nut butters.