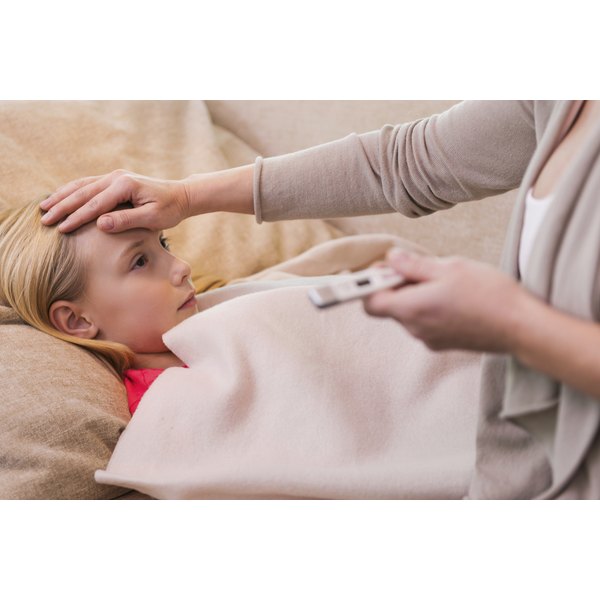 FluMist is a form of vaccination against the virus that causes influenza. Instead of a shot, FluMist offers the live virus via a wet mist into the nasal passage. This method of delivery is less painful, especially for children. It is also less time-consuming to receive the flu vaccine from FluMist instead of an injection. As with any medication or vaccine, there is a risk of side effects in children that receive FluMist. Children receiving the vaccine should be healthy at the time of administration. Children with sensitivity to eggs, egg proteins, gelatin or other chemicals should not receive FluMist. Asthmatic children age 5 or younger should also avoid FluMist.
Cold-Like Symptoms
The most common side effect in children ages 2 to 6 is a fever greater than 100 degrees. Chills may occur as a result of the fever. Monitor your child's fever closely to ensure that it does not reach dangerous levels. Your health care provider may suggest fever-reducing medication to lower your child's temperature. Runny nose, congestion and sore throat are other common side effects in young children who receive FluMist. These symptoms should not be persistent or severe. If they are, seek medical attention.
Aches and Pains
Children may experience muscle pains or aches as if they have the flu. This is due to the weakened, live flu virus that makes up FluMist. Your health care professional may suggest pain reliever for your child, if necessary. Aches should not be severe and should pass within 48 hours. Should your child experience muscle weakness, numbness, inability to move, a prolonged headache or difficulty in breathing, seek medical attention immediately.
Fatigue and Appetite
Your child may be tired or weak after FluMist. Her appetite may be reduced temporarily. These side effects may last up to 48 hours after the administration of the flu vaccine. The decreased appetite may be a result of mild stomach pain that has been associated with FluMist.