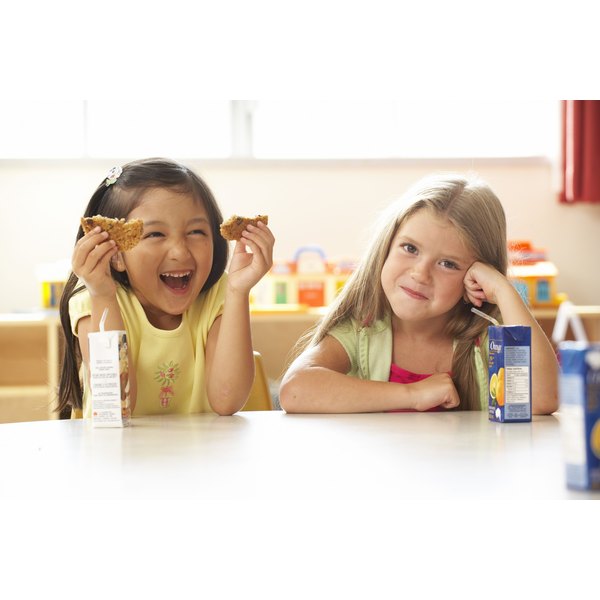 Quick and easy are the last words that come to mind when you're feeding picky kids. Junk food will often do it, but children need a balanced diet for physical and mental development. ChildrensHeartCenter.org notes that kids don't often choose to eat healthfully and it's up to you to provide them with the right choices, instilling healthful eating habits. Simple meals with flexible recipes make it easier to avoid what your picky eater doesn't want without derailing your schedule.
Burrito Pie
A burrito pie -- layered burrito ingredients baked like a casserole -- can suit the tastes of almost any picky youngster. Whole-grain tortillas, lean meats and as many vegetables as you can sneak in will balance the meal's nutrition. Sprinkle burrito fillings that your fussy eater enjoys on layers of whole-grain tortillas. Make as many layers as will fit in your casserole or pie dish. Burrito pie leftovers are perfect for packing in a chilled lunch box or reheating for the next few days' dinners. Make large batches to cut meal-preparation time for the next few days.
Shaped Sandwiches
Large cookie cutters allow you to cut sandwiches into fun shapes and make them more appealing to young children. Assemble a sandwich with your picky eater's favorite healthful ingredients -- tuna is a good choice -- and then cut it to a fun shape such as an apple or a star. Offering two or three sandwiches with different shapes and ingredients can make mealtime more of a hit. Alternately, cut slices of bread to fun shapes and offer several sandwich fillings for your picky eater to build his own sandwich.
Pita Pizza
Whole-grain pita bread works well as a healthful pizza crust and is perfect for when you're in a rush. You can keep containers of pizza toppings in the refrigerator so that making a quick pie is easy even with the pickiest of eaters. All a pita requires to become pizza is a thin layer of sauce, a sprinkle of low-fat cheese and a few fresh veggies or cooked lean meats. Make mealtime even more fun by allowing your little one to add toppings to the pizza herself. Pita pizza is done when the pita is lightly browned and the toppings are heated.
Pasta Casserole
If your youngster adores at least one type of pasta, you can make a large batch casserole style for several days of meals. Use whole-grain pasta, low-fat ingredients and plenty of veggies to keep the casserole healthful. If your fussy eater decides that the type of pasta casserole you made isn't appealing the day after you make it, freeze it for another day. A slice of garlic bread or a salad served with the casserole can make the meal more filling.