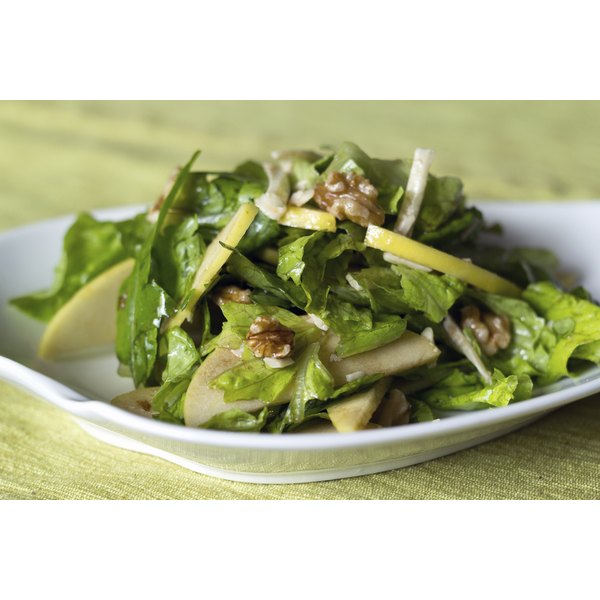 Eating healthy is often easy at home but can pose a challenge when you're traveling or just in the middle of a busy workweek. Some chain restaurants, including Panera Bread, which has nearly 2,000 locations throughout North America, provide the opportunity to eat healthy while on the go. Not everything on the Panera menu, however, is healthy. To keep within your meal plan, make smart choices as you browse the menu.
Breakfast Choices
If you choose to begin your day with breakfast at Panera, certain choices are healthier than others. If you enjoy a bagel and cream cheese, pick a plain or sesame bagel, which are lower in calories, saturated fat and sodium than most other types of bagel. These bagels have around 300 calories, no saturated fat and 460 milligrams of sodium. Opt for a reduced-fat flavor of cream cheese, such as plain or reduced-fat roasted vegetable medley. One-ounce servings of these two flavors have 70 and 60 calories, respectively. One ounce of reduced-fat plain cream cheese has 4 grams of saturated fat and 120 milligrams of sodium, while the same serving size of reduced-fat roasted vegetable cream cheese has 3 grams of saturated fat and 125 milligrams of sodium. A healthy breakfast sandwich choice is the Mediterranean egg white on ciabatta bread, which has 410 calories, 6 grams of saturated fat and 830 milligrams of sodium.
Sandwiches
Visiting Panera for lunch or dinner presents you with a multitude of options, including soups, salads and sandwiches. If you wish to eat a whole sandwich, the lowest-calorie option is the smoked turkey breast on country, with 430 calories. This sandwich has just 1 gram of saturated fat, but also has 1,790 milligrams of sodium. Adults shouldn't consume more than 2,300 milligrams of sodium per day. A sandwich lower in sodium is the tuna salad on honey wheat, which has 1,150 milligrams. To improve the healthfulness of any sandwich, skip the cheese. When possible, avoid sandwiches high in saturated fat, as this type of fat can lead to heart disease.
Salads
Choosing a salad off the Panera menu isn't necessarily healthy; many types of salad are high in calories, saturated fat and sodium. A light choice is the classic cafe salad, which has 170 calories, 1.5 grams of saturated fat and 140 milligrams of sodium in a whole-sized order. If you favor an unhealthier salad, choose a light dressing, such as Thai chili vinaigrette. A healthier choice altogether is ordering a half salad.
Soups and Pasta
Ordering soup and pasta on any menu can provide a hefty dose of calories, saturated fat and sodium, but a few choices at Panera are on the healthy side. A full-sized order of low-fat garden vegetable with pesto soup contains just 150 calories, 1 gram of saturated fat and 920 milligrams of sodium. If you favor pasta, stick to a small-sized order, as many of the large orders contain more than 15 grams of saturated fat and more than 2,000 milligrams of sodium. A small serving of chicken Sorrentina, for example, has 390 calories, 5 grams of saturated fat and 1,230 milligrams of sodium.