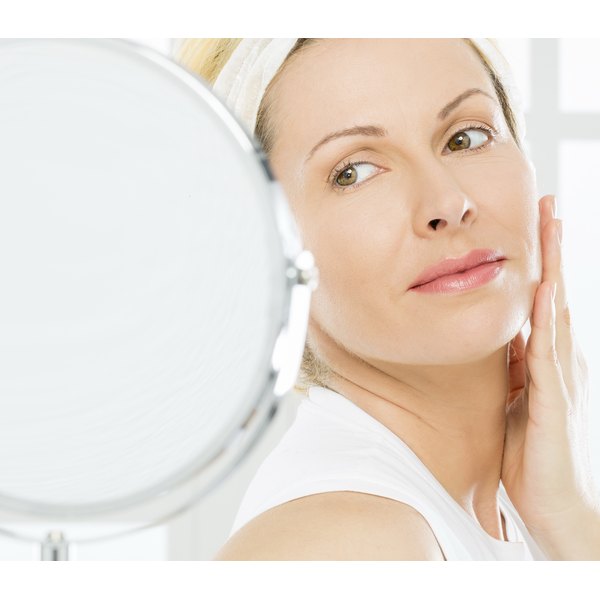 If you're starting to see signs of aging in your face, you're probably wondering if there's some way to reduce the fine lines and wrinkles that seem to plague most people as they get older. Although you can purchase over-the-counter products that may help improve your skin, your dermatologist may recommend prescription Atralin gel for your complexion.
Causes
Your skin changes as you get older due to two causes, according to the American Academy of Dermatology. First, it begins to sag more and develop wrinkles due to the reduction in collagen that occurs naturally as you get older. And second, it shows age spots and wrinkles due to outside factors, mainly sun exposure. Dermatologists call aging due to the sun "photo aging," and it causes skin to look looser, more wrinkled and saggier.
Function
The drug Atralin gel, which is a brand name for the generic drug tretinoin, can help the skin look younger by causing skin cells to renew themselves more quickly, according to the website Drugs.com. Although Atralin gel has only been approved by the U.S. Food and Drug Administration to treat acne, physicians can prescribe it for any patient, including those with fine wrinkles.
Usage/Side Effects
If your physician has prescribed Atralin gel to treat your wrinkles, you should apply it exactly according to instructions, since using extra won't make your wrinkles disappear any faster but might irritate your skin, according to Drugs.com. Side effects of Atralin gel can include skin redness and peeling, especially in the first few weeks of use. You might also notice that you're much more sensitive to the sun, so you should be very careful to use a sunscreen whenever you're exposed to sunlight.
Results
Studies show that tretinoin, the active ingredient in Atralin gel, can successfully reduce fine wrinkles. A study published in the Journal of Dermatological Treatment in 2009 looked at 57 patients, comparing patients using tretinoin to those using a placebo. Investigator K. Kikuchi and colleages reported that the tretinoin group had a 50 percent reduction in fine wrinkles and a 28 percent reduction in deep wrinkles after using tretinoin for 26 weeks.
Considerations
Atralin gel potentially can help you reduce your wrinkles, according to the website MayoClinic.com. However, if you want to get the best results from Atralin gel, you'll need to follow a full anti-aging skin care program. This includes making certain you protect your skin from the sun, using moisturizers, and if you smoke, quitting smoking.