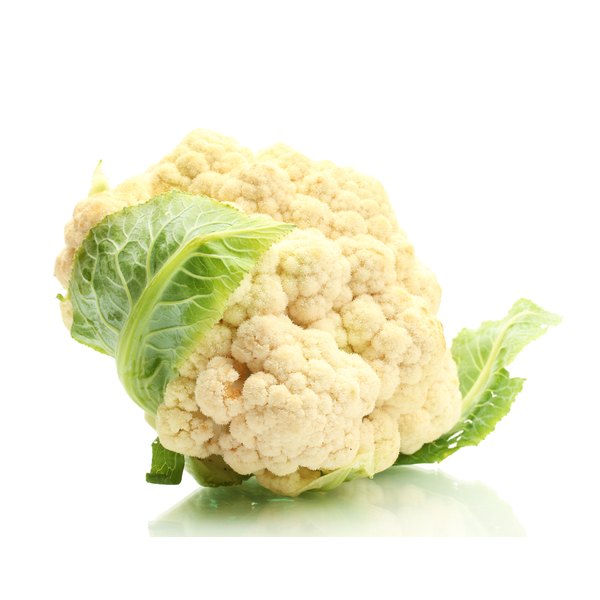 In the very restrictive first stage of a low-carb diet, you might find yourself wanting the comforting creamy texture of a side of mashed potatoes. But don't blow your carb allowance for a single serving of spuds. Instead, opt for one of several substitutes that could satisfy your craving while delivering fewer net carbs.
Carbs in Mashed Potatoes
Low-carb diets vary in daily carb counts from a low of 20 grams of net carbs in the first weeks up to as much as 150 grams. Potatoes are starchy carbs that significantly impact your blood sugar levels. Because of that, they tend to be prohibited on low-carb diets until you have lost significant weight and are close to your goal. In Atkins, for example, you won't add potatoes back into your diet until Phase Three.
Mashed potatoes aren't the highest-carb side dish you could eat, but they don't qualify as low-carb either. A half-cup of potatoes that are steamed, then mashed, has 15 grams of "net" carbs – the amount you get when you subtract fiber from total carbs. That's almost your full day's allotment in the first weeks of your diet. If you make mashed potatoes from flakes instead, that brings the net carbs down to 11. The problem is, if you're like many people, you find it hard to stop at 1/2 cup. Control your portion, and you can enjoy a small serving of mashed potatoes later in your low-carb diet, as an occasional treat or for a special meal like Thanksgiving.
Mashed Cauliflower
Unlike potatoes, cauliflower is allowed from day one on a low-carb diet. That's because it provides only 2 grams of net carbs in 1/2 cup of the cooked veggie. Steam or microwave it until soft, then crumple with a fork and mash well. Add a little cream or half-and-half plus butter for a close-to-potatoes taste. The butter adds no carbs at all, and the dairy contributes less than half a gram per tablespoon.
Or go for a cheesy "faux potato" dish by preparing your mashed cauliflower with olive oil and grated Parmesan or Romano cheese. Both the oil and cheese are zero-net-carb foods. For extra flavor, add fresh chopped basil, which is also carb-free.
Mashed Turnips
The humble turnip, a type of root vegetable, is another mashable option for your low-carb diet. A 1/2-cup serving of the cooked veggie supplies less than 4 grams of net carbs. Peel and slice or dice the turnips, then boil in water for 20 to 30 minutes or until soft. Drain and mash them, just as you would potatoes, and add butter, a strip or two of chopped bacon, garlic salt and fresh parsley for a low-carb delicacy.
Jicama "Fries"
They might not taste like mashed potatoes, but another low-carb side dish you can swap for potatoes are "fries" made from jicama, a root veggie. Cooked and sliced, 2 ounces of jicama supply 5 grams of net carbs – higher than cauliflower or turnips but still much lower than potatoes. Toss slices of jicama with olive oil, and sprinkle with chili powder and garlic salt; bake on a cookie sheet until crispy. Or for a different twist, swap curry powder for the chili powder. The oil and seasonings add no carbs to the dish.