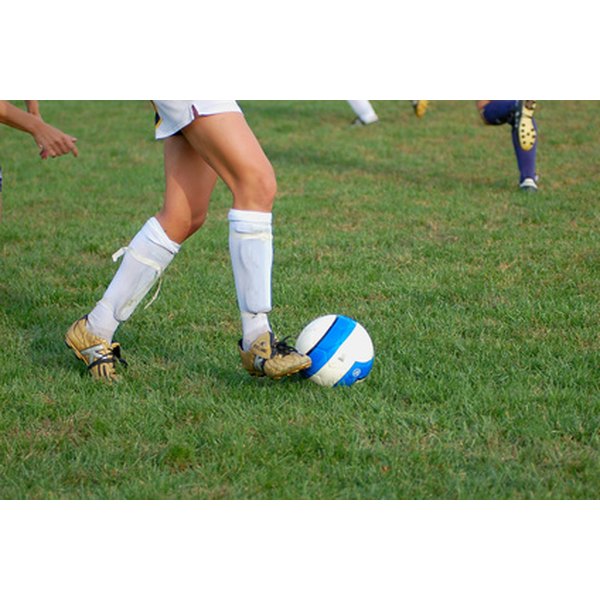 What to Look For
Soccer cleats should feet closely to optimize the "feel" of the shoe so that the child can feel the ball a little bit easier. The shoes should not, however, fit so tightly that the toe is against the edge of the shoe. Instead, there should be about a thumb width in between the end of the toes and the tip of the shoe. While many cleats come in both leather and synthetic leather, kids should opt for synthetic materials as these dry much easier without becoming stiff. In addition, the cleats should meet your child's team regulations. Have your child try on his cleats with his soccer socks and shin guards.
Common Pitfalls
Children grow incredibly quickly, which can make it tempting to buy larger cleats and let the child "grow into them". This is not advisable as it can cause blistering and soreness on the child's foot. Instead, purchase less expensive cleats that fit the child now so they can be replaced when the shoe becomes too small. You can start investing in more expensive cleats when your child has stopped growing.
Where to Buy
Kids' cleats are available at almost any store that sells athletic equipment. In addition, you can order soccer cleats from websites like Zappos.com, a site that periodically has sales going on and offers a wide range of price points and styles for kids' soccer cleats.
Cost
The cost of a child's cleat can range widely. The Ezeiro Adidas TRX FG, made specifically for girls, will set you back $25 while the Nike Kids Junior Premier II FG-R typically cost around $20. The more expensive cleats, such as the Adidas Kids Predator X FG can cost around $130; however, these are made of real leather which must be dried thoroughly after getting wet (place a newspaper in them and let them dry in the sun or inside the house) before another use. Kids' soccer cleats have a midpoint cost of about $45.