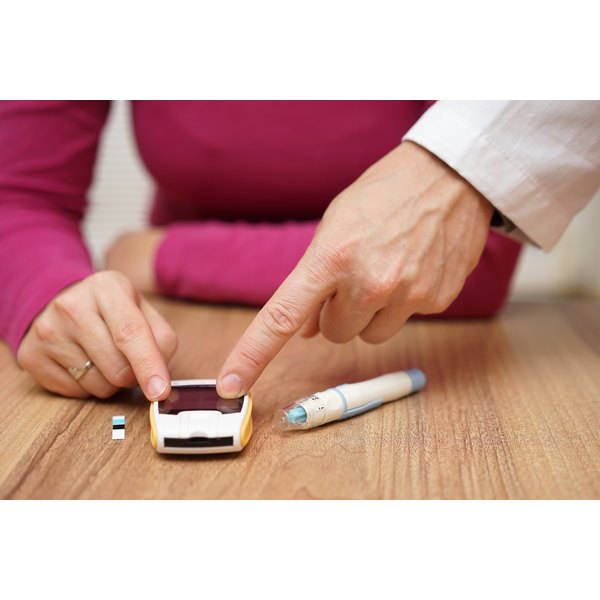 Type 2 diabetes was once -- by definition -- an adult disease, but this is no longer the case. While the average age of onset is 46, according to 1999 to 2000 National Health and Nutrition Examination Survey results, type 2 diabetes in young adults and even in teens is becoming more common. In addition, a significant portion of the population over the age of 65 has type 2 diabetes. Anyone considered high risk for developing diabetes, and every adult age 45 and older, should be screened regularly for this condition.
Type 2 Diabetes in Youth
Type 2 diabetes is becoming more common America's younger generation. A 2008 to 2009 multicenter study conducted by the Centers for Disease Control and Prevention and the National Institutes of Health confirmed this trend, finding that during the study period, 5,089 people under the age of 20 were diagnosed with type 2 diabetes. While this is significantly fewer compared to the 18,436 youth under 20 who were diagnosed with type 1 diabetes in the same year, study data published in the May 2014 issue of "JAMA" show a 30.5 percent increase in the number of youth diagnosed with type 2 diabetes in 2009 compared to 2001. Researchers believe that in children, this increase can be largely attributed to the rise in childhood obesity. According to the CDC, one in six American children is considered obese.
Type 2 Diabetes in Preteens and Teens
While children as young as 3 have been known to develop type 2 diabetes, CDC data outlines that youth between the ages of 10 and 19 have a substantially greater risk of developing this disease compared to children under the age of 10. While research into causes is ongoing, a December 2013 review article published in the "World Journal of Diabetes" discusses a link between puberty and the development of type 2 diabetes. During puberty, insulin resistance is more common. This reduced effectiveness of insulin -- the hormone responsible for removing excess sugar from the blood -- causes the body to compensate by making more insulin, and this process could ultimately lead to reduced insulin production and the development of type 2 diabetes.
Type 2 Diabetes in Young Adults
The presence of type 2 diabetes in young adults -- those ranging in age from 20 to 44 -- is also attributed to the rising obesity epidemic. According to the CDC, in 2012 approximately 4 percent of Americans age 20 to 44 were estimated to have type 2 diabetes. This age group represented 4.3 million, or about 15 percent of the 28.9 million people over age 20 affected by diabetes. Those with a parental history of diabetes are at greater risk for disease development compared to those without. Also, type 2 diabetes is more common in ethnic groups such as Asian Americans, Native Americans, Hispanics, blacks and Alaska Natives.
Type 2 Diabetes in Middle-Aged Adults
While it may seem that diabetes occurs more often in people over 65, middle-aged adults, or those between the ages of 45 and 64, are more likely than any other age group to develop type 2 diabetes. CDC data from 2012 estimated that just over 16 percent of all adults aged 45 to 64 had type 2 diabetes, and 13.4 million -- or 46 percent -- of the 28.9 million adults with diabetes fell into this group. As with other age groups, obesity is highly -- though not exclusively -- correlated with diabetes diagnosis in this age range. Other risk factors include family history and a lack of physical activity.
Type 2 Diabetes in Older Adults
Adults 65 and older are slightly less likely to develop type 2 diabetes than their middle-aged counterparts, with 11.2 million older adults making up the 28.9 million adults who had diabetes in 2012, according to CDC statistics. However, this group has the largest percentage of members living with a diabetes diagnosis -- over 25 percent of adults over the age of 65 have diabetes. This is markedly higher than the 12.3 percent of all adults over the age of 20 who have diabetes.
Warnings
Adults 45 years and older should receive regular diabetes screening during their annual well-care visits. In addition, anyone under the age of 45 with risk factors -- such as obesity, a family history of diabetes or anyone whose ethnicity is considered high risk -- should also be screened regularly. Because of the strong link between obesity, inactivity and type 2 diabetes, striving to maintain a healthy body weight and engaging in regular physical exercise are known to reduce risks. Even prediabetes, a condition in which blood sugar is above normal range but not high enough to qualify as diabetes, can be reversed with these lifestyle changes. Anyone with common diabetes symptoms, including extreme thirst, fatigue, weight loss or blurred vision, should see their doctor.