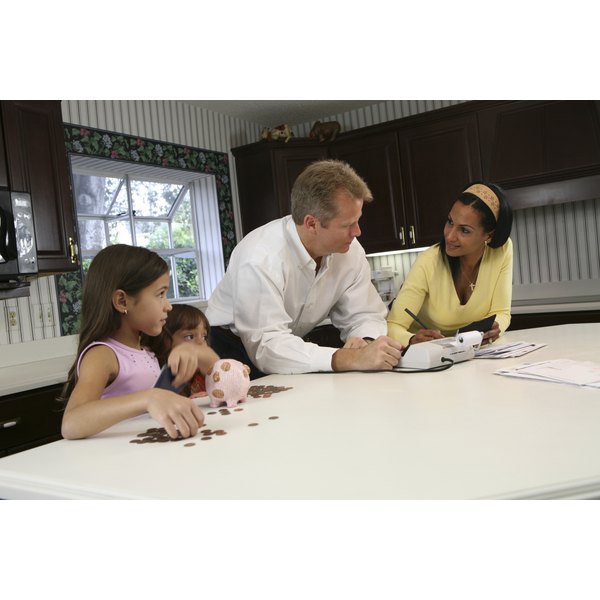 At some point in your life, some of your family's budgeting goals are going to change, along with your circumstances and income. Other goals may remain the same, and others still will fluctuate. Through all phases of your family life, you'll need to keep track of your income and expenses so you can get the most from your money.
Young Without Children
As a young couple just starting out, your budgeting options are broad, although your income may be on the lower end of the spectrum. It may be tempting to spend your money as soon as you earn it, but there is no better time than now to learn to live within your means, according to the Military Money website. Talk as a couple to determine your long-term goals. Planning to own a home, having a family and your desired age of retirement are all issues you should discuss. Planning a budget will allow you to save towards those dreams while still enjoying your life today.
With Young Children
Adding a child to your family adds considerable expense and a shift in priorities. It is easy to get carried away buying the very best for your baby, but you can save a considerable amount of money buying clothes and baby care items from garage sales or borrowing them from friends and family. Remember that as your child grows, so will the expenses that accompany raising him. Now is the time to start saving for his future while still keeping a focus on your own. You will also want to budget for childcare expenses, as well as develop a healthy "rainy day" fund for unexpected medical and dental expenses.
With Older Children
As young parents, you may have fallen into the trap of ignoring your finances and focusing solely on raising your children. It is still a good idea to tweak your budget and start saving for college if you foresee it in your child's future. If you have been saving all along, you should have healthy retirement and college funds at this point. While your child does not need to be privy to every financial detail, it is a good idea to start teaching him about budgeting and money now, so that he can use those skills as he grows, suggests the University of Missouri Extension.
Older Without Children
If you are approaching or have already reached your retirement years, your budgeting focus will be to continue living within your means, but a few interests may be added to your financial outlook. Although some find it unpleasant to think about, end-of-life care is an important issue to consider. This can include long-term nursing care and funeral expenses. According to LendingTree, if you have never consulted with a financial planner before, now may be the time if you want to ease your mind about planning for these expenses, while still leaving a small nest egg for your children.