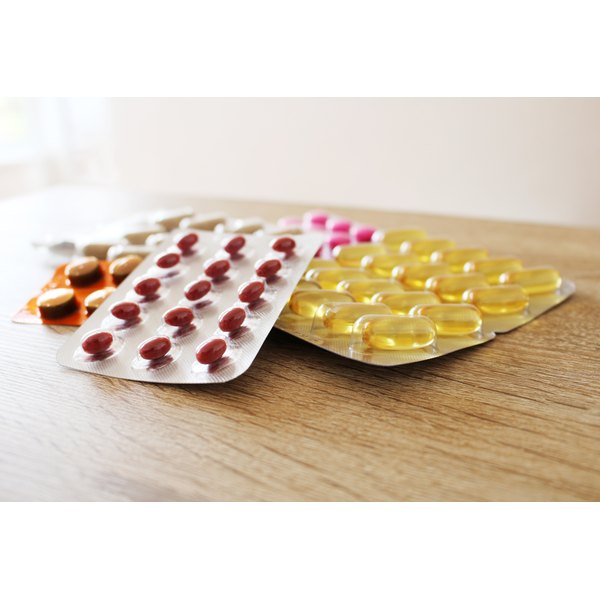 Anxiety consists of disorders that cause an accumulation of unexplainable physical and mental symptoms. Fear, paranoia and nervousness are often combined with dizziness, trembling, and shortness of breath. These manifestations can appear randomly and without warning, the PSYweb website reports. Anxiety disorders are more complex than everyday stress, and tend to be more prevalent in women than men. Consult your doctor about your anxiety issues, and before self-treating the problem with vitamins or herbal supplements.
Types
Several herbs have traditionally been used to treat anxiety and depression, pharmaceutical company Medicor Labs Corporation reports on the website for its Clarocet product. Rhodiola rosea, valerian root and winter cherry haven been seen to relieve nervous tension in anxiety sufferers. S-adenosyl methionin, or SAM-e, and passion flower may foster emotional health and reduce irritation and aggravation. The serotonin precursor 5-Hydroxytryptophan and St. John's wort, a neurotransmitter-regulating herb, have been used for more severe cases of anxiety and depression.
Expert Insight
Dr. Daniel Hall-Flavin, writing for the Mayo Clinic's website, suggests kava as the best herbal treatment for anxiety. Although kava does reduce anxiety, Hall-Flavin reports that this supplement comes with health concerns, including reports of liver damage. The U.S. Food and Drug Administration has not, as of 2010, banned the sale of kava, and Hall-Flavin writes that kava appears to be safe when taken for no longer than six months.
Considerations
B vitamins can stabilize the body's levels of lactate, which can cause anxiety attacks, reports the Holistic Online website, which recommends taking a B-complex vitamin as a supplement for anxiety. B vitamins also help the nervous system to reduce physical symptoms of anxiety, such as trembling and dizziness.
Potential
The University of Michigan Health System recommends nutritional supplements include inositol, magnesium, fish oil, and a multivitamin/mineral supplement for those suffering from anxiety. Given over a three-month period, these supplements proved more effective for study participants when compared to subjects taking a placebo.
Warning
St. John's wort can deactivate certain drugs such as contraceptives, HIV medication, medications to keep the body from rejecting organs after transplants and blood-thickening medications. Indeed, the BBC reported the case of a Swedish woman who, despite taking birth-control medications, found herself pregnant after using a St. John's wort supplement.