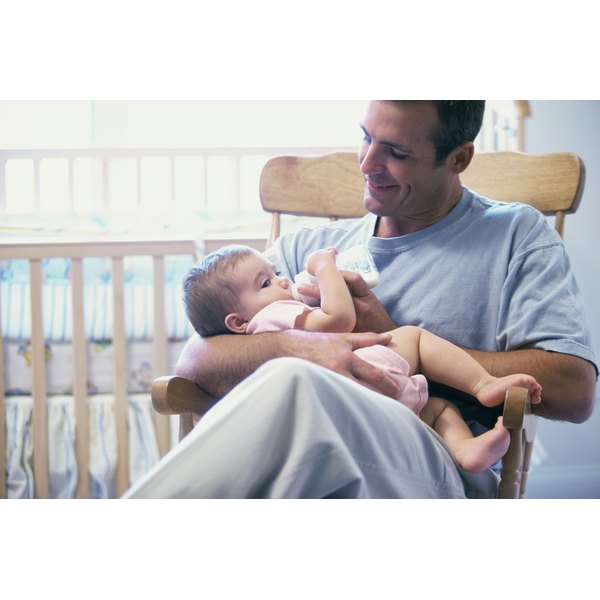 Other than by crying or fussing, your baby can't tell you when he has stomach gas, an often painful and uncomfortable condition many babies experience. As a parent, you can assist in preventing this situation by choosing and using bottles and nipples while feeding him which are designed to help avoid or reduce gas in your baby's tummy.
Nipple Selection
As your baby sucks on the bottle's nipple, you will want to be sure he is getting the correct flow of breast milk or formula to prevent extra air getting in -- often a cause of gas. According to the What to Expect and ConsumerSearch websites, bottle nipples come with different-sized openings to allow for slower flow for newborns or faster flow as your baby passes 3 months and can swallow at a faster rate. Choose a clear silicone nipple to prevent a possible allergic reaction to latex, and select the one which allows your baby to suck properly and receive the right amount of fluid to prevent choking or frustration and which prevents the most air from seeping in.
Angle-Necked Bottles
When your baby lies back and sucks on the bottle nipple while the bottle is held at an incorrect angle, she will be sucking in more air than fluid, contributing to gas. Bottles with a bend in the neck, or angle-necked bottles, allow fluids to gather at the nipple, making it less likely your baby will also swallow air, according to Consumer Reports. In addition, these bottles are easy to hold and designed to be used with your baby sitting semi-upright, which can help prevent fluid from accumulating in her ear canals, a situation which often leads to ear infections.
Disposable Liners
Bottles that use a special plastic bag to hold liquids can also help reduce gas in your baby. According to What to Expect, disposable-liner bottles use pouches that fit inside a rigid, bottle-shaped holder. The pouch is secured with a lid comprised of a nipple and bottle ring, then filled with breast milk or formula. As your baby drinks the fluid, the liner collapses, which means there is less room for air bubbles to form, and it is these air bubbles that can cause your baby's gas.
Vented Bottles
When your baby sucks on a standard bottle, the sucking action can create a vacuum and air bubbles. Vented, or natural-flow, bottles are designed with an internal vent -- a straw-like system placed inside the center of the bottle -- which can help prevent both from occurring.