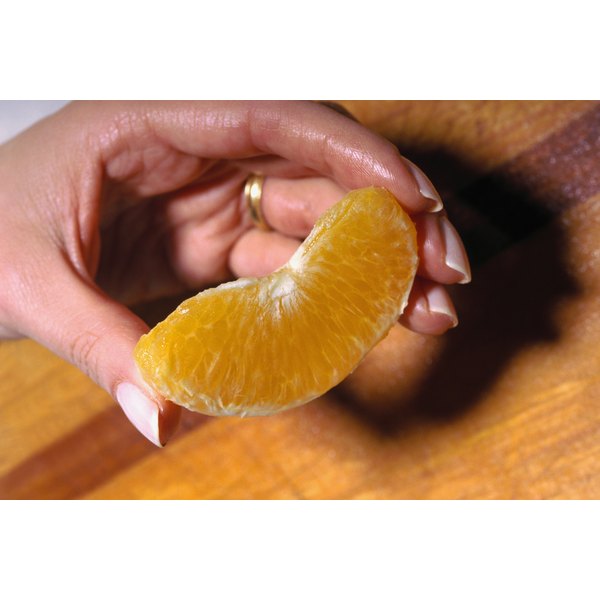 Even if your fridge is mostly empty, it's not a stretch to think you might open your crisper to find an orange. This staple of the diet of North Americans isn't new; explorer Christopher Columbus carried oranges with him when he landed on the continent in 1493. Whether you enjoy an orange as part of a fruit salad or on its own, the fragrant citrus fruit is packed with nutrients.
Juicy, Sweet and Nutritious
The exact nutritional value of an orange depends on its variety. According to the U.S. Department of Agriculture, a standard-sized navel orange contains 69 calories, 17.6 grams of carbohydrates and 11.9 grams of sugar. The orange also has 60 milligrams of calcium, 232 milligrams of potassium and 82.7 grams of vitamin C. Standard Valencia or California oranges have similar numbers, at 59 calories, 14.4 grams of carbs, 48 milligrams of calcium, 217 milligrams of potassium and 58.7 grams of vitamin C. If you prefer tangerines or mandarin oranges, expect a large fruit to contain 64 calories, 16 grams of carbs, 12.7 grams of sugar, 44 milligrams of calcium, 199 milligrams of potassium and 32 milligrams of vitamin C.