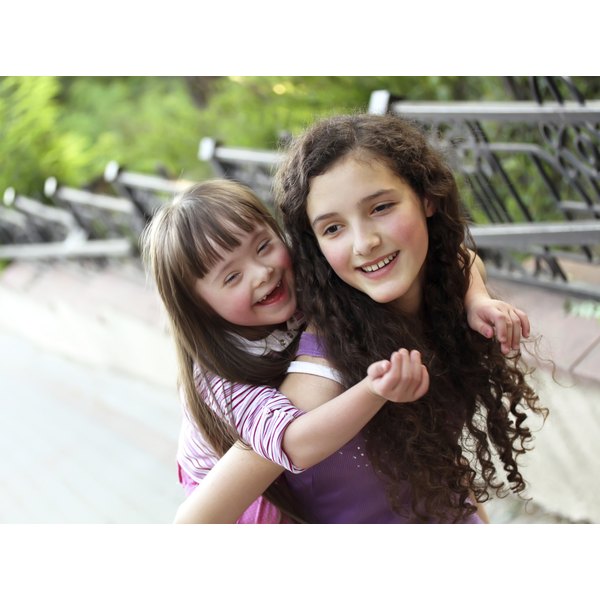 Parents, social workers and educators can organize games that support the developmental growth, social skills and motor skills of special-needs children, posits Barbara Sher, author of "Early Intervention Games: Fun, Joyful Ways to Develop Social and Motor Skills in Children with Autism Spectrum or Sensory Processing Disorders." In addition to fostering social skills, these games can improve the rate of inclusion of special-needs children in group activities.
Act It Out
Role-playing provides ample teachable moments for kids with special needs, advises Marnell L. Hayes in "Social Skills: The Bottom Line for Adult LD Success." A tea party allows children to rehearse table manners and conversation. A play kitchen encourages children to interact while emulating daily life tasks. If your child experiences conflicts at school, use role-playing to support your child in brainstorming solutions to conflicts, and then have him rehearse implementing these solutions. Give your child a chance to set up role-playing situations for you as well.
Grow with Board Games
Board games provide excellent social skills practice for children with special needs. They give kids practice in basic social conventions such as taking turns, interacting with peers, problem solving, following rules and working together toward a common goal. The tactile aspect of board games engages many children, demonstrating how they can enjoy the process of the game rather than focusing on who wins or loses.
Free-For-All
Childhood education expert and author, Barbara Lowenthal, recommends gradually transitioning special-needs children into short amounts of free play time, which provides diverse opportunities for social interaction. Remind all children of community agreements before instituting free play activity. Assign children roles to help them support each other and guarantee inclusion. Provide loosely structured and open-ended activities, such as tools in a sand tray, a water play area with buckets, watercolor painting, a box filled with bouncy balls, chalk, jump ropes, soap bubbles with wands, and hula hoops.