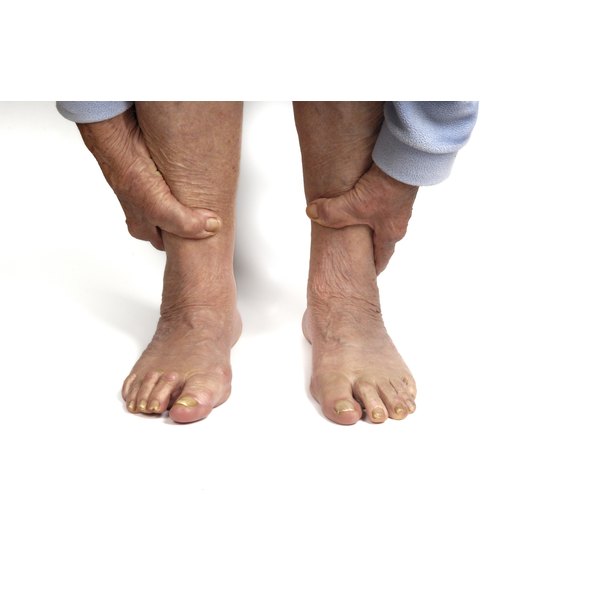 Polyarthritis isn't a specific disease but rather a term used to describe arthritis that affects five or more joints. A number of diseases can cause polyarthritis, which can occur as an acute or chronic problem. Causes of polyarthritis include infections such as the viruses that cause rubella or mumps. Polyarthritis from acute viral infection normally subsides within six weeks, says rheumatologist Nathan Wei, M.D., of the Arthritis Treatment Center in Maryland. Chronic diseases such as rheumatoid arthritis and psoriatic arthritis can also cause polyarthritis. Treatments include a number of drugs that reduce inflammation.
Nonsteroidal Anti-Inflammatory Drugs
Also known as NSAIDS, nonsteroidal anti-inflammatory drugs reduce inflammation by blocking the actions of prostaglandins, which are substances that play a part in producing inflammation, according to Johns Hopkins Arthritis Center. NSAIDS also decrease mild to moderate pain. NSAIDS work quickly and generally have less toxic side effects than more potent drugs used for polyarthritis. However, gastrointestinal upset and ulcers can occur.
Corticosteroids
Corticosteroids reduce inflammation by suppressing the immune response. Since many of the diseases that cause polyarthritis are related to autoimmune diseases such as systemic lupus erythematosus, corticosteroids quell the immune response that accompanies autoimmune diseases. Corticosteroids are often the first drugs prescribed in such disorders, Robert Meador, M.D., stated in the March 2003 issue of "Hospital Physician." To prevent steroid-induced osteoporosis, medications that help prevent bone loss such as bisphosphonates are often prescribed along with corticosteroids, Wei reports. Corticosteroids often help relieve pain and other symptoms while waiting for other drugs to take effect, according to the Johns Hopkins Arthritis Center.
Conventional DMARDS
Disease modifying anti-rheumatic drugs, commonly called DMARDS, can alter the course of many of the diseases that cause polyarthritis. Because it takes up to six to eight weeks for DMARDS to take effect, corticosteroids and nonsteroidal ant-inflammatory medications are also given for a more immediate effect. DMARDS reduce inflammation by suppressing the immune system. The DMARD typically used as the first drug for treatment for many rheumatic diseases is methotrexate, also used as a chemotherapy agent in people with cancer. Methotrexate can cause liver damage and requires monitoring liver function blood tests, among other serious side effects. Other DMARDS include sulfasalazine and hydroxychloroquine, which is an anti-malarial drug that causes severe eye damage in one in 40,000 patients taking the drug, Johns Hopkins reports.
Anti-TNF Drugs
Tumor necrosis factor induces inflammatory responses in many of the types of arthritis that cause polyarthritis. Medications that block the effect of tumor necrosis factor, called anti-TNF medications, are biological DMARDS, meaning that they modify biologic responses. Anti-TNF drugs commonly used include etanercept, infliximab and adalimumab. Given intravenously or by subcutaneous injection, anti-TNF factors have a number of serious side effects, including transfusion reaction, with fever, chills, body aches and headache, or increased susceptibility to infection, Johns Hopkins states.