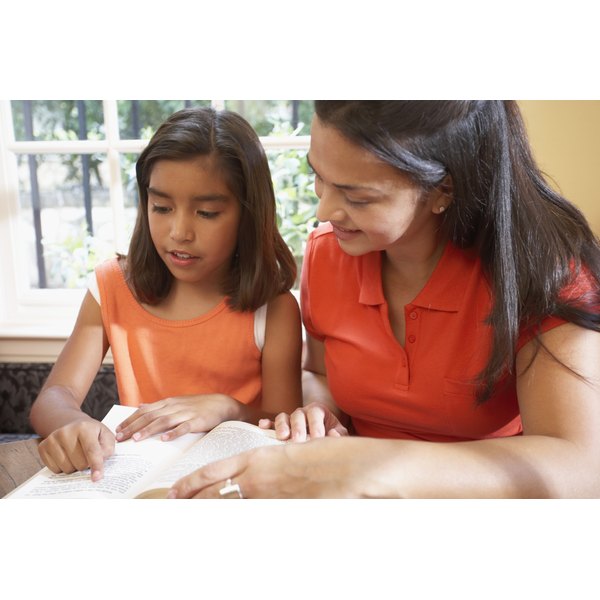 Your child's ability to read easily and understand what he is reading may affect his success at school. Reading is not simply a subject which stands alone, rather it is the core mechanism for learning other subjects such as social studies, history, economics, science and even math. As a parent, you will want your child to succeed in school at all levels of his education. Help him gain a more solid reading foundation by working with him to improve his reading speed and comprehension.
Assess your child's reading ability in order to help him read faster. Analyze the results of an online reading or school administered test to determine whether he has an age-appropriate understanding of sight words, phonics awareness and blending techniques. Ask his teacher to give you her opinions on his basic reading skill. Children who read slowly often struggle to decode the words, says the Reading Rockets website.

Sit down with your child and have her read books and stories that she is familiar with and enjoys, recommends LD Online, a website on learning disabilities. Rereading stories helps your child with her fluency and speed. Point out unfamiliar words prior to reading together. Even if she has memorized some of the words, every time she reads the book, she gains confidence in her ability.

Combine improving your child's decoding skills with reading comprehension, recommends Special Connections, a program out of the University of Kansas. Children who struggle with decoding often struggle with comprehension. Show your child a book and discuss the book before he reads it. Include facts about the author, the focus of the book and what your child will learn. When he begins reading, stop occasionally, and ask him to predict what will happen next, close his eyes and visualize the scene and reword what he has just read. Ask age-appropriate questions.

Question your child after she finishes reading a book. Ask your child about new words she has discovered in the book, suggests The Partnership for Reading. Talk about the meaning of the new words, using a dictionary to encourage her self-discovery of information. Make up questions about the story. Include who, what, where, when and how questions to assess your child's understanding of what she read. Test her memory of the details of the story by asking her names of characters, places and number details.

Surround your child with books and read aloud to him frequently, suggests the Family Education website. Reading to your child can help his overall reading skill and comprehension. Go to the library and check out books that are interesting to your child to encourage him to read more frequently. Vary the types of reading material, and include magazines, read along CDs and computer programs.

Tip

Limit the amount of television your child watches.

Be encouraging and positive when working with your child and select interesting books that are slightly below your child's reading level to develop speed.

Do not compare one child's ability to another.

Warnings

Seek professional help if you or your child's teacher notices a learning disability. Have your child's vision and hearing evaluated.