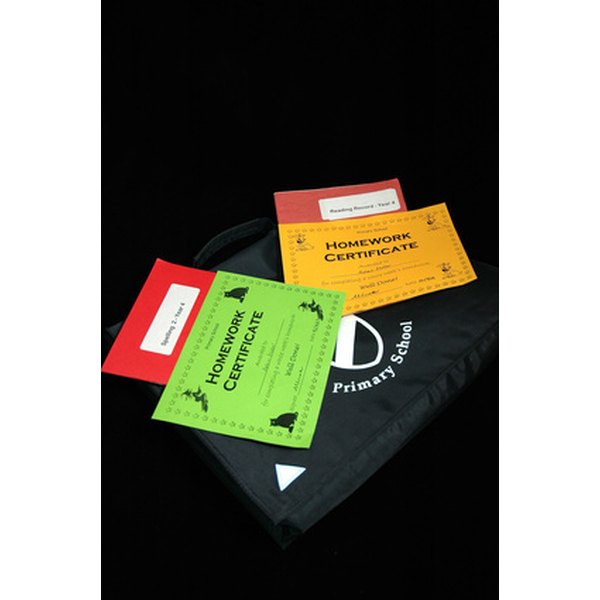 The past several decades have been filled with research to help figure out the most influential factors in determining a child's success in school. The findings thus far support a multi-faceted solution to helping kids excel. According to Sandra L. Christenson, PhD, what families and communities do to support academic success far outweighs other factors such as income, ethnicity and socioeconomic status.
Set the Stage
Parental and family attitudes about learning are one of the most significant factors that influence a child's ability to succeed in school. When children know that their parents expect them to attend school consistently, earn good grades and complete their homework, they frequently live up to those expectations. Children without those familial expectations do not tend to see the importance of education and are more likely to skip school, ignore homework and perform poorly. Families can create a culture of high academic expectations by ensuring that their child has adequate time and space to do his homework, and by regularly discussing the topics he is learning in school.
Get Involved
According to a best-practice brief on parent involvement in school by the University of Michigan, students whose parents are involved with school earn higher grades, complete homework more regularly and are less likely to be involved in alcohol or drug abuse and violent behaviors. Parents can become involved in schools through volunteering in the classroom, chaperoning field trips and joining the parent-teacher organization. Parents can also get involved by supporting extracurricular activities such as music, theater or sports.
Open Up Lines of Communication
Frequent and open parent-teacher communication is essential to children's school success. When parents know what their child is learning in school, they can discuss those topics and provide additional opportunities to explore them. Frequent communication between parents and teachers also allows parents to provide immediate extra support when their child struggles with a topic, rather than waiting until report cards are sent home. By the time parents see a report card, it is often too late to help a child grasp a topic because the class has already moved on to something else.
Take Care of the Basics
Schools can help families ensure the academic success of their children by making programs available to help them meet children's basic needs. According to Share Our Strength, nearly 17 million children in the U.S. experience "food insecurity"—running out of food without the money to buy more, skipping meals or reducing portion size to stretch available food. Children who experience food insecurity have a harder time learning than those who regularly have enough nutritious food to eat. Schools can encourage families to participate in low-cost or free meal plans, if they are eligible, and refer parents to community-based food programs.
Do More
When students face socioeconomic hurdles to education, including poverty and unsafe neighborhoods, schools can provide extended learning opportunities to help counter those factors. Head Start and other early-childhood education programs help young children develop early literacy skills. According to Ohio's Resources for Extended Learning Opportunities, a good extended learning program will help students improve self-confidence, reduce harmful behaviors including alcohol and drug abuse, and improve reading and math test scores. Extended learning opportunities may be school-based or community-based and provide fun, constructive activities after school, on weekends and during summer breaks.