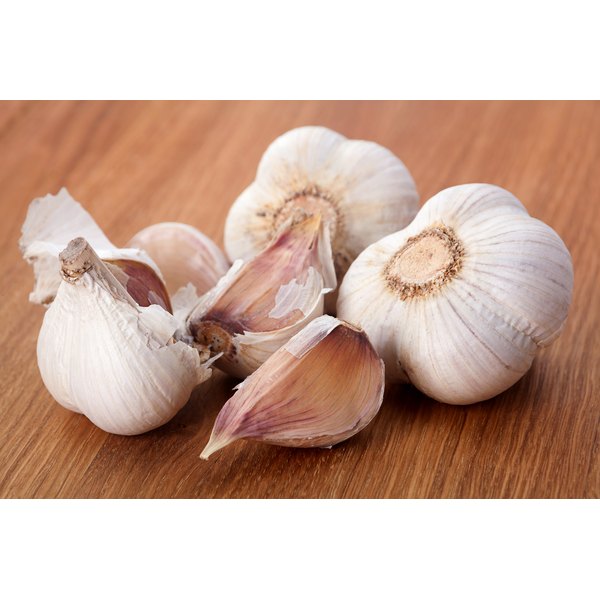 In the early 1900s, American cuisine rarely incorporated garlic. Since that time, the Agricultural Marketing Resource Center reports that garlic consumption in the United States has risen to more than 2 pounds per person a year. Typical recipes call for small amounts of garlic, such as 1 or 2 teaspoons, for example, as a flavor enhancer in dishes. Although these small quantities of garlic aren't a significant source of essential nutrients like vitamins and minerals, they can contribute to the overall makeup of a healthy diet.
Low in Fat
A 1-teaspoon serving of chopped raw garlic contains 4 calories with just 0.09 calories from fat. Garlic is so low in fat that an entire cup of garlic would still contain less than 1 gram of fat. Each teaspoon of garlic has a trace amount of saturated and polyunsaturated fat and no cholesterol.
Contains Few Carbohydrates
Garlic has 0.93 of a gram of carbohydrates in every teaspoon, which is an amount that makes up approximately 93 percent of garlic's total caloric content. Simple sugars contribute about 0.03 of a gram to this total, and 0.1 of a gram comes from dietary fiber. Some of garlic's fiber consists of inulin, which is a type of fiber that may help keep the bacteria population in your intestines balanced and may increase your body's ability to absorb calcium.
Trace Amounts of Vitamins and Minerals
Each 1-teaspoon serving of garlic supplies your body with small levels of vitamins and minerals like vitamin C, thiamin, calcium, iron, copper and selenium. Adults between 19 and 50 years old need 1.3 milligrams of vitamin B-6 each day, and a teaspoon of garlic supplies about 3 percent of this requirement with 0.04 milligrams of the vitamin. Garlic also has 0.05 milligrams of manganese in each teaspoon, which is an amount that fulfills 2 percent of a man's recommended daily allowance and nearly 3 percent of a woman's recommended daily allowance.
Source of Phytochemicals
Garlic is a source of a group of phytochemical compounds known as allyl sulfides. These compounds may be able to prevent cancer development by helping your body eliminate potentially cancerous substances, by inhibiting tumor growth and by causing cancerous cells to die. Allyl sulfides might also support health and immune system function. The American Cancer Society cautions that you should not consume large amounts of garlic in an attempt to treat or prevent any medical condition, including cancer.