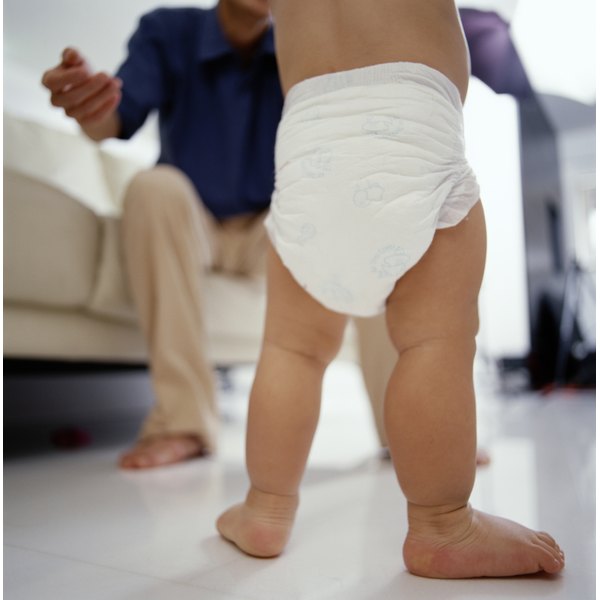 Experts agree that the best shoes for new walkers are no shoes at all. According to the American Academy of Pediatrics, walking with bare feet allows children to use their toes to grip the ground as they gain stability with their heels. These movements enhance the development of muscles used for walking. While your little one can practice walking around the house with bare feet, it is important for him to wear shoes outside of your home for sanitary and safety reasons. The best shoes for children who are learning to walk offer features that mimic the sensation of walking in bare feet.
Roomy and Porous
The best shoes for new walkers provide wiggle room, especially in the toe area. Toe tenderness and redness are signs of ill-fitting shoes. Avoid plastic, rubber and imitation leather, as these materials trap heat and moisture. Instead, choose shoes with uppers that are made of permeable materials, such as canvas, cloth or leather.
Flexible and Lightweight
Choose shoes that mold to the natural walking motion of your child's feet. The AAP recommends shoes that offer mid-foot stability, cushioned heels and forefoot flexibility that allows for side-to-side and up-and-down movement of the toes. Shoes that are lightweight reduce the amount of energy your child expends as he learns to walk.
Flat and Non-skid
Avoid shoes with elevated heels because they do not support proper arch development. Slippery soles should also be avoided. Opt for rubber or composition soles that are ribbed or grooved for traction and stability.