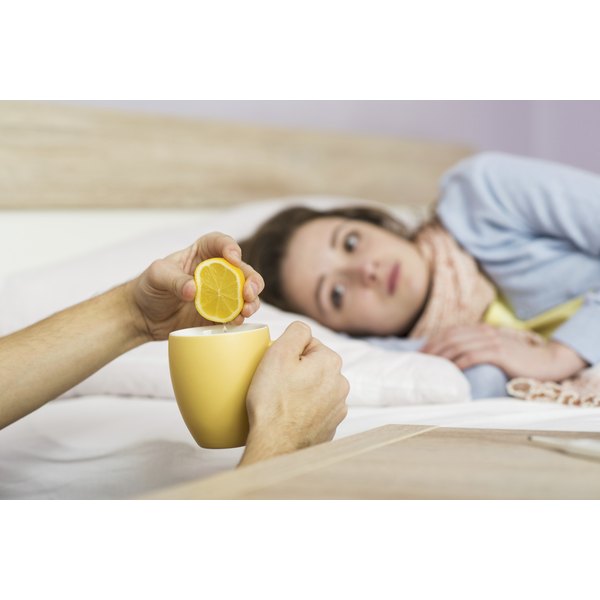 Pulmonary nodules are small round or oval spots on one or both of the lungs that are less than 3 cm in diameter, according to the University of Colorado Hospital. Though a pulmonary nodule can be a sign of lung cancer, National Jewish Health reports that more than 60 percent of these nodules are benign or noncancerous. Symptoms of pulmonary nodules can be difficult to detect, but affected patients should seek care from a doctor.
Asymptomatic or Cold or Flu-like Symptoms
Approximately 90 percent of pulmonary nodules are identified inadvertently by a doctor after a patient undergoes a chest X-ray or CT scan for an alternate medical condition, the University of Rochester Medical Center reports. Symptomatic patients typically develop mild cold or flu-like symptoms, such as cough, fever or fatigue. This lack of discernible symptoms makes it difficult for a doctor to diagnose this condition in affected patients.
Causes and Risk Factors
Noncancerous pulmonary nodules can develop as a result of prior lung problems such as tuberculosis or fungal lung infections, MedlinePlus explains. These benign lung spots typically do not cause additional medical complications in affected patients. Patients over the age of 45 who smoke are at the highest risk of developing cancerous pulmonary nodules, warns the University of Rochester Medical Center, which can result in lung cancer if affected patients do not receive prompt treatment.
Diagnosis and Treatment
Patients who have a pulmonary nodule may undergo a lung biopsy to allow a doctor to evaluate whether the spot is benign or cancerous. During a lung biopsy, a doctor removes a small piece of lung tissue from a sedated patient, which is then examined for cancer cells. Noncancerous pulmonary nodules typically do not require treatment. If a patient has a cancerous pulmonary nodule, it is typically removed surgically, National Jewish Health explains. Cancerous cell growth that extends beyond the lungs may require more extensive treatment, such as chemotherapy or radiation therapy.