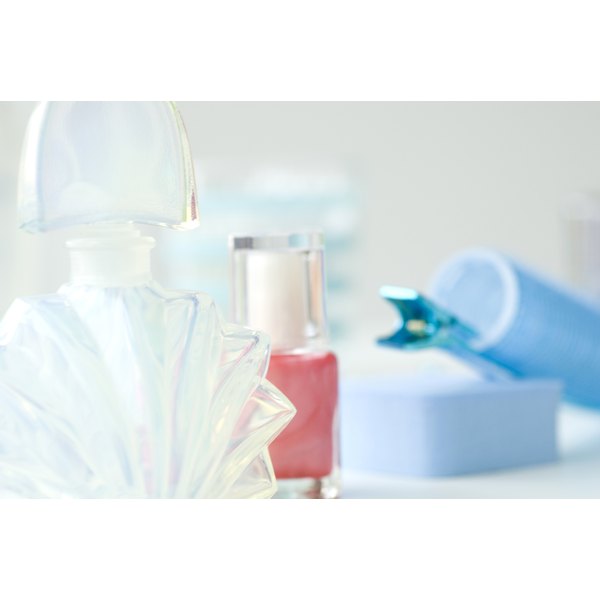 Perfumes may smell good, but health risks associated with wearing perfume range from mild to severe. The Campaign for Safe Cosmetics commissioned a study of perfume ingredients that reveal dozens of unreported chemicals in perfumes. Both known and unknown perfume ingredients can impact the health of perfume wearers and those around them. These health risks include contact allergies, respiratory irritation and hormonal reactions.
Contact Allergies
Allergies from perfume generally take the form of a rash on the skin. This may occur from personal use or coming into skin contact with someone wearing perfume. Rashes are usually located on the arms, hands and face. Swelling, redness and itching to the affected area will fade within a few days without the need for medical intervention in most cases. If perfume comes in contact with the mouth, a rash can occur on the lips.
Jasmin synthetic, cinnamic alcohol and hydroxycitronellal are the most commonly found allergens in perfume. Those who are allergic to perfume ingredients are urged to avoid use of products with perfumes to lessen health risks.
Respiratory Irritation
Bronchial spasms may be caused by perfume for those with asthma, according to groups like the American Lung Association and the Asthma and Allergy Foundation of America. Allergy sufferers can also develop other upper respiratory problems from exposure, a serious health risk. American Lung Association recommends those with lung disease avoid wearing perfume and attempt to steer clear of perfume as they go about their days.
Hormonal Reactions
Hormonal reactions can occur from known and unknown chemicals in perfume. A study commissioned by the Campaign for Safe Cosmetics revealed 12 hormone-disrupting chemicals in tested products. Some chemicals mimic the hormone estrogen (the female sex hormone) and others are associated with thyroid effects.
The National Cancer Institute finds lavender and tea tree oils, in particular, have effects similar to estrogen. They may also block or decrease the effect of androgens (male sex hormones). Long term use is linked to breast enlargement in pre-pubescent boys. Cancer patients should consult a physician before using perfumes with ingredients that can cause interfere with hormones.