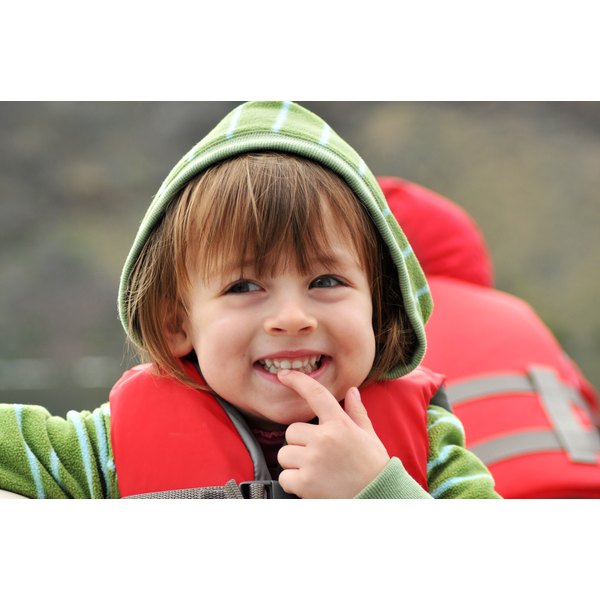 What to Look For
It isn't easy to get kids, especially little ones, to wear a life jacket. Life jackets can be bulky and uncomfortable. Finding the right fit that allows a child to still play and be active is very important. Consider the reason your toddler needs a life jacket first. Also consider whether or not your child will need to wear it for a long period of time. An off-shore life jacket is called a Type 1 Personal Flotation Device (PFD). Children must weigh at least 11 pounds for this PFD. It will turn most unconscious wearers face up and is recommended for off-shore recreation. Type 2 PFDs are good for boating in calm waters or swimming in a supervised pool. They are the most comfortable all the way around and are offer more movement. These are a good compromise for most recreational family uses. Type 3 PFDs are also best in supervised areas and not to be relied on for life-saving performance. A person who is conscious can turn themselves over in a Type 3. A safety grab strap on the back is an excellent feature for a toddler's life vest, as is a crotch strap that keeps the vest from riding up while she is playing.
Common Pitfalls
Do not purchase pool floats and rings, arm bands, swimsuits with flotation devices and other swim trainers as a replacement for a life jacket. These items will generally help your child stay afloat, but they are unrated as PFDs and should never be relied on as a life saving device. They are for fun only. A common mistake is believing that if the parent is a good swimmer, then a toddler doesn't need to wear a PFD. Even strong swimmers need PFDs and children should always have them on, especially on boats or around rough water. Make sure your child's life jacket fits properly. According the United States Coast Guard, it must "fit snugly and not allow the child's chin or ears to slip through." Not testing your PFDs yearly is another common mistake. Any jacket that is waterlogged, faded or leaky should be thrown away and a replacement purchased.
Where to Buy
Life jackets can be purchased at most stores that sell sporting goods, fishing and boating gear. The baby safety catalog and website One Step Ahead also offers PFDs for small children. Discount stores like Wal-Mart and Target offer some PFDs in their sporting goods department, but be sure to check their labels for the rating.
Cost
Life vests approved by the U.S. Coast Guard start at $15 for a child between 30 and 50 pounds on Amazon.com as of August 2010. A Coast Guard approved vest with a safety grab strap on the back is $25 at One Step Ahead. Prices range between $15 and $40 for toddler life vests, depending on brand, rating and features.
Insider Tips
A life jacket should be worn by a child when he's spending time around any body of water, whether it be around the lake shore, out on a boat, at the local swimming pool or during any other swimming or water activities. Just remember to always supervise your child around water and never allow him to go in the water alone.