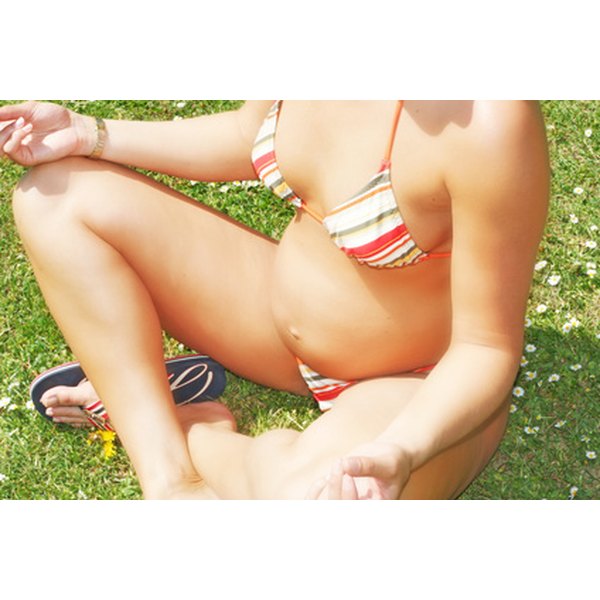 Ectopic pregnancies happen when a fertilized egg implants outside the endometrium, or inner lining, of the uterus. While ectopics can technically include implantation outside the reproductive tract entirely, many are tubal, meaning that the egg implants in the fallopian tube. Women who have been treated for an ectopic pregnancy may go on to have a healthy pregnancy.
Significance
Understanding the significance of a healthy pregnancy after an ectopic involves understanding the mechanism behind the ectopic pregnancy itself. While some ectopic pregnancies are random, others are the result of risk factors. Dr. Miriam Stoppard, in her book "Conception, Pregnancy and Birth," explains that women with endometriosis, tubal surgeries, or a history of pelvic inflammatory disease are at greater risk for ectopic pregnancy than those without risk factors. These women have a higher risk of a repeat ectopic as well, compared with those for whom the first ectopic was a random event.
Likelihood
The effects of the first ectopic and its treatment affect the likelihood of a healthy follow-up pregnancy. The Advanced Fertility Center of Chicago explains that there are many ways of dealing with an ectopic. If the problem was caught early and the tube didn't rupture, tube-sparing techniques that eliminate the ectopic pregnancy without tubal damage minimize risk of future ectopic pregnancies. The center notes that the recurrence rate of ectopic is about 6 to 1 in favor of a healthy pregnancy across all cases of ectopic history.
Considerations
A woman who has had an ectopic and would like to follow up with a healthy pregnancy can engage in certain behaviors in the interim that increase her chances of conceiving normally. The Advanced Fertility Center of Chicago explains that progestin-only birth control and in vitro fertilization techniques increase the risk of an ectopic pregnancy. As such, women with a prior history of ectopic might choose to avoid these if hoping to have a normal pregnancy.
Testing
Obstetricians closely monitor women who are pregnant after one or more ectopic pregnancies to make certain that the pregnancy appears normal. Very early tests involve using hormone levels to assess the viability of the pregnancy. The Advanced Fertility Center of Chicago notes that low levels of hCG, or human chorionic gonadotropin, and progesterone indicate an abnormality of some kind. These levels can provide very early indications of problems and allow doctors to catch ectopics before they damage the tube.
Imaging
In his book "What You Didn't Think To Ask Your Obstetrician," Dr. Raymond Poliakin notes that ultrasound is one of the best ways to check for normal implantation and viability of a pregnancy. While it's not necessary for obstetricians to perform early ultrasounds in all pregnancies, women who've had ectopics may benefit from an ultrasound at 6 weeks gestational age. The ultrasound checks for a gestational sac and, often, an early heartbeat. Provided the sac is in the uterus, the pregnancy is normal.