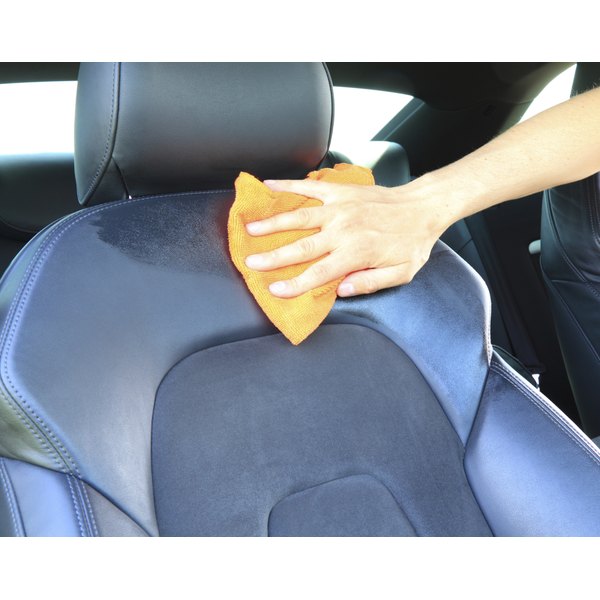 Leather provides a durable, warm and stylish covering from everything from furniture to purses. Though leather stands up to a lot of wear and tear, it requires proper care to keep it looking good. Regular cleaning will help your leather items remain supple and attractive. Always test any cleaning method on a small, inconspicuous area of the leather to make sure the remedy doesn't spot, darken or otherwise mar the leather.
Eraser
The Michigan State University Extension recommends cleaning leather with an art gum eraser. The eraser will rub away dirt without harming the leather. Rub the eraser in a back and forth motion across the leather surface. Don't press down too hard. Pause from time to time to blow away the eraser debris.
Talcum Powder
For fresh grease or oil spots on leather, Mrs. Clean House Cleaning Specialists recommends you pour plain talcum powder over the spot and let it sit overnight. Vacuum up the talcum powder the next morning. The powder will absorb oil from the leather.
Soap and Water
A mild soap, such as castile soap or saddle soap, can clean leather. Dampen a rag and rub the soap on the rag, then rub the leather with the soapy rag. Avoid getting the leather too wet. Leather will absorb moisture and too much moisture in one location can result in spots.
Olive Oil
Once you've cleaned the leather you should condition it with a little oil. Too much oil can darken the leather or leave spots, so use only a few drops at a time on a clean, soft cloth. Rub the cloth in a circular motion across the leather. If you use too much oil, the surface of the leather will become sticky. If this happens, wash the oil off with soap and water and start over.