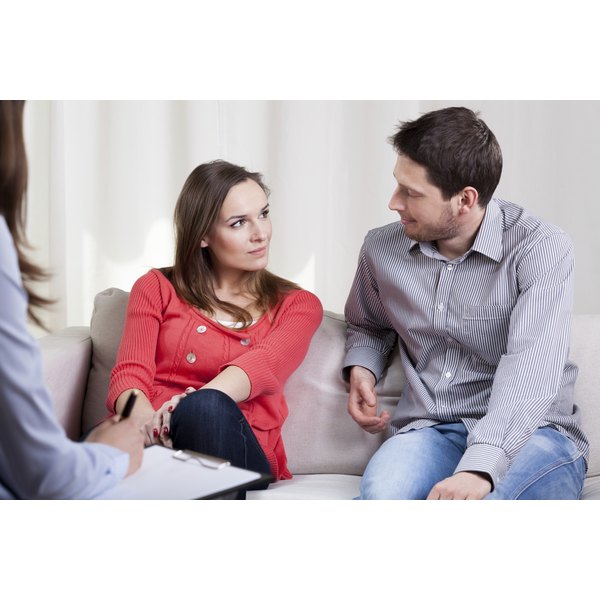 It takes time to get over the hurt feelings and betrayal caused by an unfaithful spouse. These are normal reactions when you learn that your husband has had an affair. Whether you decide to try to remain in the marriage or leave your husband, Mark White, professor of political science, economics and philosophy at the City University of New York, or CUNY, recommends making your first obligation to yourself. Taking care of yourself and your children should be your top priority as you assess the impact the situation has had on your life.
Confront your husband and let him know you are aware that he is having an affair. Collect absolute evidence of his infidelity before you accuse him. If he admits to having an affair, ask him directly whether his relationship with the other woman is over.

Choose whether you want to forgive your husband and stay married. If the two of you express a desire to make your marriage work, commit to rebuilding the relationship. You can't fix your marriage unless you learn to trust him again. Make it clear to him that he can earn your trust again only through his actions. It is his responsibility to demonstrate to you that he is trustworthy.

Deal with what has happened in the past so that you can move forward. Admit that it is possible that your husband has learned from his mistakes so that the two of you can develop a more intimate relationship. Talk openly about what happened. Share your feelings and listen to one other. When both partners make the effort to recommit to the marriage, the outcome can be a stronger and more satisfying relationship than before, according to the Mayo Clinic website.

Seek marriage counseling. Professional counselors are trained to facilitate communication between spouses. Counseling also gives your husband the opportunity to explore the reasons for his cheating. Even if your spouse is not willing to participate, you can still work through your own issues by seeing a counselor yourself. A therapist can help you deal with the pain and anger you are feeling.

Ask for additional support from relatives and friends. Confide only in those individuals whom you feel you can trust. Choose people who will listen without being judgmental or criticizing your spouse's behavior.

Write down your feelings in a journal. This may make it easier for you to share with your spouse the emotions you are experiencing. Acknowledge that you may have to deal with feelings of denial, anger and depression before you can accept your husband's infidelity. Much like grieving for a spouse who has died, you may suffer several stages of grief before you can forgive him and eventually heal.

Commit to making your marriage better. This will take determination on both your parts. While it may be easier to walk away from the marriage, it takes considerable effort to make a damaged relationship work again, explains Dr. Edward Dreyfus, a clinical psychologist and life coach based in Santa Monica, California. Focus on improving communication and intimacy in the marriage.

Tip

In addition to the variety of emotions that a betrayed wife can feel, she may also experience a loss of self-respect and sense of purpose.

Warnings

Avoid blaming yourself for your husband having an affair. Don't let him blame you either. Even if the marriage had problems, the choice to have an affair was his.

Don't make the decision to divorce your husband while you are in such an intense emotional state. While not all marriages can be saved, in some cases, it is possible to recover from the trauma of an unfaithful spouse and restore trust in the marriage.