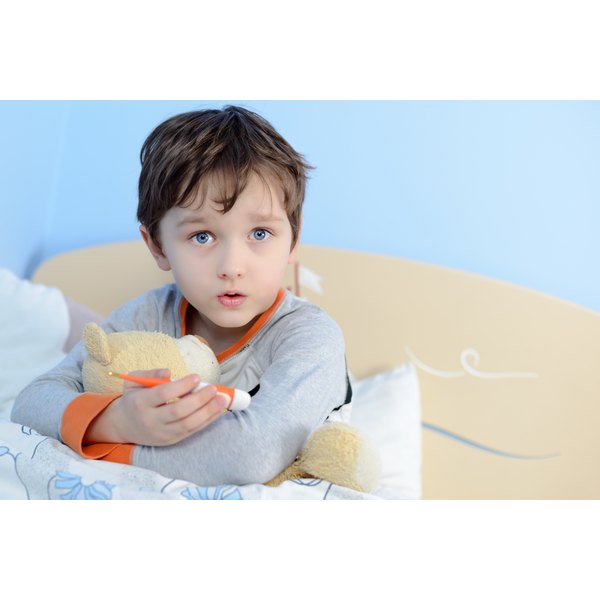 Cefprozil is a semi-synthetic antibiotic in the family of cephalosporin drugs. It's a broad-spectrum antibiotic, which means that it can be prescribed for a range of bacterial infections. Cefprozil is commonly sold under the brand name Cefzil. RxList.com advises that it's safe to use for the treatment of infection in the ears, throat, sinuses, skin and respiratory tract in children from 6 months and older. In children, it's commonly prescribed for bacterial infections such as otitis media or ear infections, pharyngitis and tonsillitis. However, cephalosporins and other antibiotics should only be given to children under the supervision of a doctor. Side effects can occur.
Upset Stomach, Nausea, Vomiting, Diarrhea
Cephalosporin antibiotics work most efficiently when taken on an empty stomach. However, this can cause an upset stomach that can normally be decreased or prevented by taking the medication with food. Other gastrointestinal side effects of cephalosporins include vomiting, abdominal pain and cramping, diarrhea, and colitis. Nausea is the most common side effect. RxList.com warns that some stomach effects from Cefprozil and other antibiotics occur because these drugs alter normal levels of beneficial bacteria in the large intestine, leading to an overgrowth of C.difficile, a harmful bacteria.
Dizziness, Drowsiness, Headache, Rash
General side effects of Cefprozil and other cephalosporin antibiotics in children include dizziness, difficulty sleeping, drowsiness, headaches, skin rashes and hives, hyperactivity, nervousness and yellowed skin and eyes. Drugs.com notes that the yellowing of the eyes and skin is caused by jaundice, a very rare side effect. Children may also experience genital itching, and infants can get a diaper rash. According to RxList.com, skin sensitivity and rashes due to the cephalosporin class of drugs are more common in children than adults. Skin symptoms normally begin a few days after the antibiotic therapy is started and subside within a few days.
Allergic Reactions
Allergic reactions can cause severe side effects that require medical attention immediately, Drugs.com says. Symptoms of allergic reactions to Cefprozil include skin rashes, swelling of the face, eyes, lips and throat, constriction of the airways, shortness of breath, difficulty breathing and anaphylactic shock.