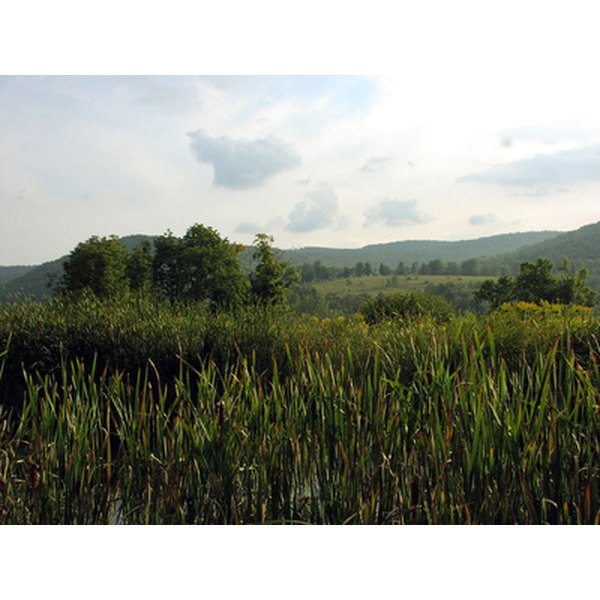 According to the website Eat More Herbs, Brahmi is a white or pinkish flowering Indian plant cultivated in masses near marshes in China, Nepal, Sri Lanka, India and even parts of the state of Florida. Brahmi, also referred to as Indian pennywort and Bacopa monnieri, has been used since ancient times as an Ayurvedic medicine because the two primary alkaloids it is composed of are brahmine and herpestine. Additionally, Brahmi is an invaluable herb due to the chemicals it possesses, like saponins, esters and several acids. Brahmi oil is renowned for treating dandruff, alopecia, insomnia, epilepsy, syphilis and promoting mental alertness and calmness.
Treats Dandruff
When massaged onto your scalp and hair, the antioxidant properties found in Brahmi oil can nourish and replenish hair roots and alleviate the itching and flaking associated with dandruff. Brahmi oil should ideally be applied on a nightly basis prior to bed for optimum results. Furthermore, Brahmi oil reportedly strengthens hair and inhibits the development of split ends.
Fights Alopecia
Eat More Herbs lauds Brahmi oil for its ability to generate proper hair growth and thwart hair loss, a condition medically termed alopecia. Massaging Brahmi oil onto your scalp will cool the head and its antioxidant properties enable the production of healthy hair roots. When your hair roots are healthy, radiant hair should emerge from the scalp with ample volume.
Insomnia
The website American Chronicle reports Brahmi oil is provided to patients affected by insomnia. Once applied to the scalp, Brahmi oil can ease the brain and release feelings of tension or nervousness. When you are relaxed, the adverse symptoms of insomnia are lessened and falling asleep becomes a far easier proposition.
Epilepsy
Brahmi oil has long been used to treat epilepsy. Eat More Herbs notes the juice in a Brahmi plant is extracted and used to help formulate the medicine for epilepsy. For best gains, Brahmi oil is typically mixed with another Ayurvedic herb called vacha.
Calmness and Alertness
Used consistently, Brahmi oil is famed for possibly enhancing your concentration, memory and retention capacity. In fact, Indian families have practiced consecrating Brahmi oil on their children for centuries with the belief that their intelligence will increase. The soothing effects of Brahmi oil are also known to maintain a level of calmness.
Syphilitic Sores
The Mayo Clinic notes syphilis is a bacterial infection generally contracted through sexual activities. Sores from syphilis are found on your genitals, mouth or elsewhere on your body. Syphilis is a disease that requires treatment or it can hinder your heart and brain. The Clinic reports penicillin is the standard way syphilis is treated. However, Eat More Herbs urges you to also consider regularly applying Brahmi oil to a sore caused by syphilis to help the infection rapidly heal. It is vital that you follow the treatment advice given by your doctor.