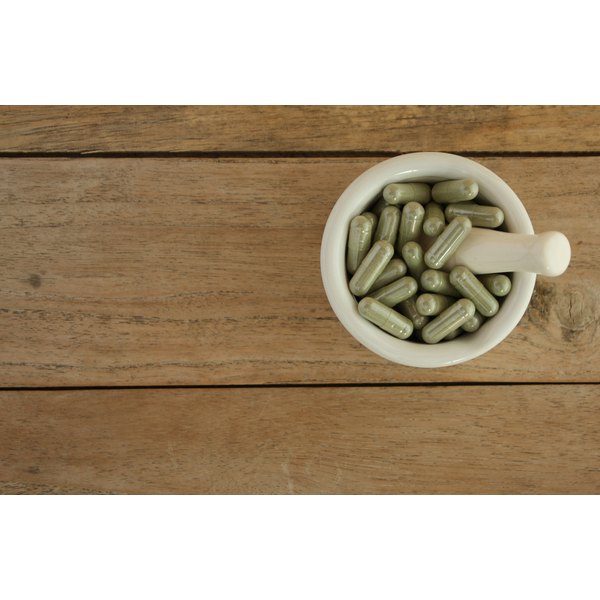 Pygeum africanum bark extract has been used for thousands of years to treat symptoms of benign prostatic hypertrophy, or BPH. BPH is a condition where the prostate gland is enlarged and sufferers experience symptoms of frequent and painful urination. Medline Plus recommends consulting a health care provider before treating yourself with pygeum or any other herbal remedy. Today, pygeum is commonly used in Europe to reduce symptoms of BPH with few unwanted side effects.
Identification
Pygeum africanum bark extract contains several naturally-occurring chemicals that contribute to its therapeutic action. These plant chemicals are a class of triterpenes that include oleanolic, ursolic, ferulic and crataegolic acids, reports The Memorial Sloan-Kettering Cancer Center. Other substances found in pygeum extract are phytosterols and tannins.
Sources
Pygeum africanum bark extract is derived from the African plum tree of the Rosaceae family, reports Medline Plus. African plum trees are tall evergreens that originate in parts of central and southern Africa. Pygeum africanum bark extract is standardized and sold as a supplement in a capsule or tablet form.
Benefits
Scientific evidence reviewed by Medline Plus reports that pygeum most notably improves symptoms in individuals diagnosed with BPH. Individuals noticed that pygeum significantly reduced urinary frequency and pain during urination. Other symptoms of BPH, like inflammation and night-time urination, also decreased in users who took pygeum supplements. Consult a health care professional if you experience urinary complications.
Dosage
Clinical studies reviewed by Medline Plus report that 75 to 200mg of Pygeum africanum bark extract daily have been used to treat individuals with benign prostatic hypertrophy. Standardized doses of the extract were administered orally in a capsule once a day or divided into two doses. Benefits may take several weeks to occur during use, reports Memorial Sloan-Kettering Cancer Center. It is important to consult a physician before treating yourself with pygeum.
Side Effects
Pygeum use has been reported as safe at the recommended doses. No severe side effects have been reported but mild symptoms include diarrhea, stomach pain, nausea and constipation. Long term pygeum use for more than 12 months has not been studied, reports Medline Plus. There is also lack of evidence to recommend pygeum for use in pregnant women and children.