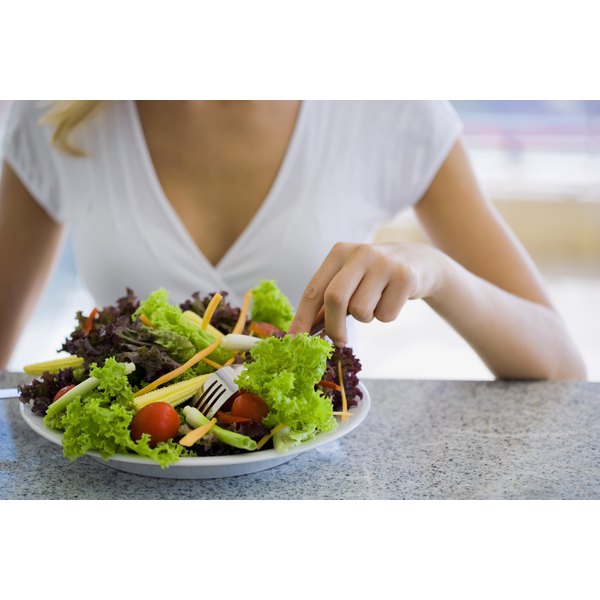 Veganism is an extension of vegetarianism in that the consumer refrains from consuming any animal product and not just meat. This means a diet and lifestyle free of dairy, leather and wool, and the use of cruelty-free household and personal care products. If you're considering going vegan, or have some vegan guests coming to visit, you may wonder where to find vegan products. Remarkably, many of the products you're probably already familiar with are vegan-friendly.
Cruelty-Free Products
Most natural health food stores stock an array of natural household cleaners and personal care products that are not tested on animals. Many of these products carry the PETA Cruelty-Free Logo, which is administered by the international watchdog group, People for the Ethical Treatment of Animals. You may also encounter the Certified Vegan Logo on certain products, the registered trademark of Vegan Action awarded to manufacturers of cosmetics, foods and clothing that are not tested on animals and are free of animal products.
Leather-Free Products
Years ago, trying to locate a baseball glove or a pair of hiking boots that weren't made from the hide of an animal was a tall order. Today, there are a wide variety of products ranging from luggage to outerwear and ballet shoes made from synthetic materials rather than leather. Many of these items are accessible online. However, you might be surprised to learn that there are some popular "conventional" type stores that sell vegan products. For example, according to Vegan Action, Payless Shoes routinely stocks vegan shoes at affordable prices.
Vegan Foods
PETA provides a list of vegan food products organized by type. There are many well-known brands included. Kashi, which is recognized as a leading manufacturer of organic whole grain foods, naturally appears on these lists. Other brands and their specific products are a bit more unexpected, such as Ore-Ida French Fries and several varieties of Mrs. Smith's frozen pies.
Vegan Pet Food
One of the problems many vegans face is what to feed their pets, since commercial brands of dry kibble and canned food contain meat and questionable meat by-products. Fortunately, the brands Evolution, Natural Life, Nature's Recipe, Wysong and Natural Balance provide vegetable-based foods for dogs that are approved by the Association of American Feed Control Officials, most of which are available from pet supply centers and in some supermarkets. However, even though there are vegan cat food products out there, cats generally do not fare well on these foods since they have high protein requirements.