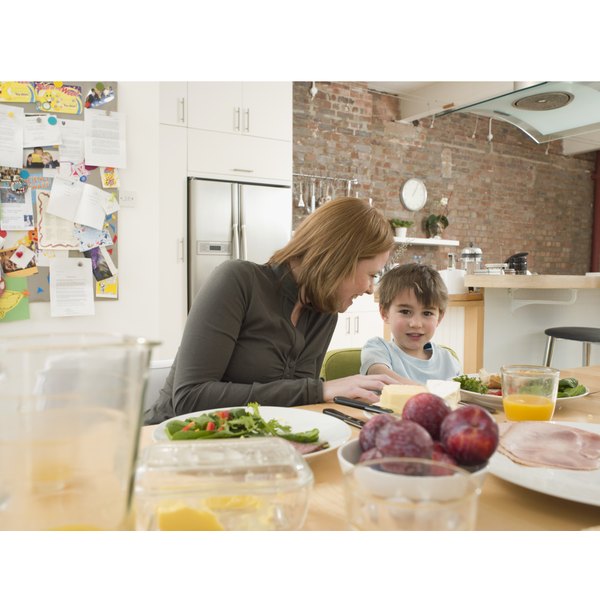 Sports practices, PTA meetings, late nights at the office -- with multiple schedules to juggle, many families find it difficult to sit down together for dinner. It may not seem significant, but eating together as a family can give your child an advantage in many areas. Before you head to the drive-thru or sit in front of the TV for your next meal, consider the impact of sharing a meal with your kids.
Improves Healthy Eating
Families who eat meals at least three times a week benefit nutritionally compared to peers who do not share as many meals as a family. The American Academy of Pediatrics examined studies about the impact of family meals on obesity, eating habits and disordered eating. The results showed a 12 percent lower risk of being overweight, a 20 percent decrease in choosing unhealthy eating and a 35 percent lower risk of disordered eating. Eating together gives you a chance to teach your child about healthy, balanced meals. Preparing the meal together, your child can learn how to cook in a healthy manner.
Curbs Risky Behaviors
Teens face peer pressure to engage in risky behaviors, such as smoking, drinking and trying illegal drugs. Families who eat together aren't immune to teens' risky behaviors, but they can reduce the chance of their teens trying drugs, alcohol and tobacco. Teens who eat family meals at least five times weekly have a much lower risk of engaging in those behaviors compared to teens who eat two or fewer family meals, according to the National Center on Addiction and Substance Abuse at Columbia University. The teens who eat frequent family meals also tend to have fewer friends who use drugs.
Improves Academic Achievement
Family meals won't guarantee A's, but do give your child a better chance at performing well in school. Eating seven family meals together weekly increases the odds of seeing high grades on the report card by 40 percent, according to Columbia's National Center on Addiction and Substance Abuse. Younger children benefit academically by improving social skills, such as communication and taking turns. Discussing events at school and topics your child studies also supports learning and shows her that you have an interest in her learning.
Strengthens Family Relationships
Today, families spend many waking hours on the go, but meal time gives you a chance to slow down and be together. That togetherness is an effective way to bond with your kids, giving them a sense of unity and security, according to Kathleen T. Morgan of Rutgers University. Families practice communication skills by sharing stories during dinner. When you turn off the TV and focus on family conversations at the dinner table, your kids learn to confide in you.