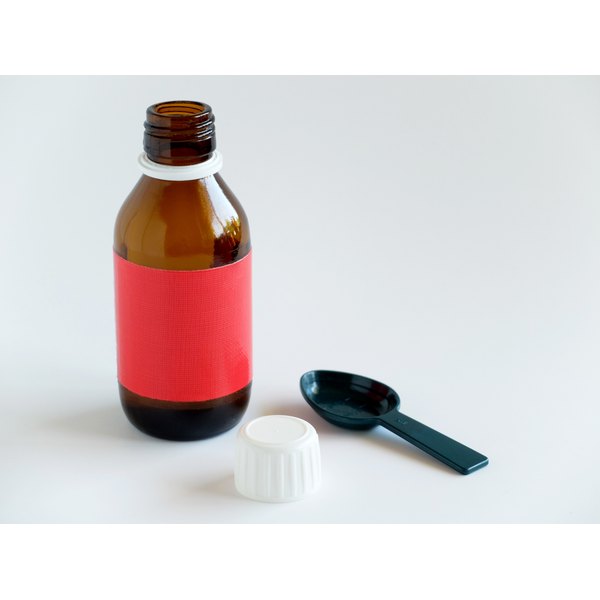 According to the Office of Dietary Supplements at the National Institutes of Health, some children in the United States are at risk of iron deficiency and anemia. If you are looking for a way to increase your child's iron intake, liquid supplements might work because the body can absorb them well, and your child will not need to swallow a pill to get the iron.
Nature's Healthy People
Herbasaurs Multiple Vitamins Plus Iron (Vital Nutrition) is a daily supplement for children. It has no artificial colors or sweeteners, and it is free of sucrose and starch. The sweetener is fructose. Every teaspoon of this supplement has 4 milligrams of iron, which is 20 percent of the daily value for children over age four. This supplement also provides zinc and vitamins A, B, C, D and E. The instructions for children over age 4 are to take 2 teaspoons daily with a meal.
Kitrillen
Children's Vitamins liquid formula contains 90 nutrients, including 63 trace minerals and iron. Along with vitamins and minerals, this supplement has enzymes and amino acids. According to Kitrillen, the benefits of this supplement include strengthening bones and teeth, supporting collagen development and enhancing the immune system with elderberry juice. Sea kelp is a significant ingredient in the formula because of its potential benefits for the brain and the thyroid. Aloe vera contributes digestive enzymes. The sweetener in this liquid is stevia, and the supplement has no sugar, salt, wheat or yeast. The Food and Drug Administration has not evaluated the health claims of this supplement. You should always be cautious when choosing a supplement for your child.
Integrative Therapeutics
If you are looking for a children's iron supplement that is not also a complete multivitamin, you might consider cinnamon liquid iron from Integrative Therapeutics. This liquid iron supplement is a vegetarian source of vitamins B12 and folic acid, and each teaspoon provides 20 milligrams of iron. The gluten-free supplement also has no sugar, soy, yeast or artificial flavorings or colorings. The Food and Drug Administration has not approved the statements about iron's role in energy production and red blood cell structure, and you should consult a doctor before introducing your child to a new supplement.
Protocol
Protocol Advanced Supplement Technology makes the Body Quencher Drink: Total Body Nutrient. This supplement is all natural, with the color and flavors coming from fruit. The minerals in this liquid are from plants rather than synthetic sources. Protocol promises that children will enjoy taking it because of its delicious citrus flavor.Every tablespoon of the liquid provides six milligrams, or 33 percent, of the daily value for iron, as well as 100 percent of the daily value for the B vitamins, biotin and vitamins A, C, D and E. The Food and Drug Administration has not tested this supplement.